Product News: Sensors Monitors & Transducers
LVDT Position Sensors ensure quality control in steel mills.
Press Release Summary: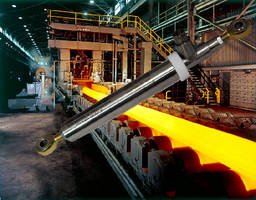 January 20, 2012 - Environmentally sealed to IP68 standard, rated to 185°F, and protected against dust ingress, Steel Mill Position Sensors monitor position of milling frames that support rollers during hot rolling process, ensuring frames do not deform or shift. Radial configuration with rod ends facilitates installation, while pre-calibrated on-board electronics eliminate need to configure signal conditioners. Available in ±0.015 to ±10.0 in. ranges, non-contact sensors provide 0-10 V, 4-20 mA, and ±10 V outputs.
Original Press Release
Steel Mill LVDT Position Sensor Reduce Mill Downtime with Long Term Operation, Easy Installation
Press release date: January 17, 2012
Rugged LVDT is designed for easy installation, calibration and configuration Pennsauken, NJ, ...Macro Sensors (www.macrosensors.com) new non-contacting LVDT Position Sensor keeps steel rolling mill operations running smoothly with less downtime. Ensuring quality control during steel production, Macro Sensors Steel Mill Position Sensor monitors the position of milling frames that support rollers during the hot rolling process. Position feedback ensures frames don't deform or shift during the rolling process. These non-contacting LVDTs can also be used to monitor the position of the rollers themselves. The highly rugged and robust LVDT offers long-term operation within the high temperatures and harsh environments of steel rolling mills. Environmentally sealed to IEC standard IP-68, rated to 185°F (85°C), and protected against dust ingress, this linear position sensor resists moisture and contamination from airborne particulates and other dirt and grime inherent in steel mills. While other LVDTs require a great deal of downtime for installation or replacement, this unit is specifically designed for easy calibration, configuration and installation. A radial configuration with rod ends simplifies installation of the LVDT as there is no need for core rods for connection. Rod-ends make mounting the non-contacting Steel Mill Position Sensor easier as units can quite literally be dropped into place, which saves on installation time. Units also incorporate pre-calibrated on-board electronics, eliminating the need to configure signal conditioners. Electrical null adjustment also makes for easy positioning. Macro Sensors offers its non-contacting Steel Mill Position Sensor in 0-10V, 4-20mA, +/-10V outputs. Based on the company's popular HSDR Series of Hermetically-Sealed DC-Operated LVDT Position Sensors, units are available in ranges of ±0.015 inch (±0.38 mm) to ±10.0 inches (±250 mm). For more information on the non-contacting Steel Mill Position Sensors, please contact Macro Sensors at sales@macrosensors.com. About Macro Sensors
Macro Sensors' extensive line of linear and rotary sensors are used for position measurement and feedback in a variety of industrial applications including factory automation, motion control systems, metal fabricating, automotive assembly as well as power plants, gas/steam turbines. Incorporated in 1994, the Company offers more than 200 years of cumulative design and manufacturing experience by its key staff in serving its OEM and end-user international customer base.