Product News: Mechanical Components and Assemblies
Linerless Plug Closure suits aseptic beverage packages.
Press Release Summary: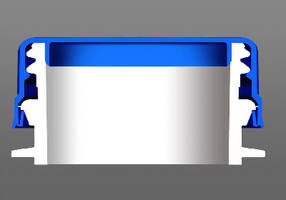 March 17, 2011 - Compression molded using proprietary resin blend that includes high-density polyethylene, Steri-Shield(TM) can withstand aseptic sterilization environment up to 140°F without failing. Plug closure can be made in variety of sizes ranging from 38-43 mm, with or without tamper-evident band. Cap is suited for range of aseptically filled beverages, including juices, isotonics, dairy, energy drinks, milk, vitamin waters, drinkable yogurt, and teas.
Original Press Release
Portola Announces Proprietary Linerless Closure Technology for Both Low-, High-Acid Aseptic Beverage Packages
Press release date: March 15, 2011
Naperville, Ill. -Portola Packaging, Inc. announces its new Steri-Shield(TM) linerless plug closure technology for aseptic beverage packages. The new, leading-edge capability is making it possible for Portola to be one of the first North American manufacturers to commercially produce linerless closures that can meet the rigorous demands of aseptic applications. The category has traditionally used closures with thermoplastic elastomer (TPE) or foil liners to achieve seal integrity for both low- and high-acid beverages. By eliminating the liners, the plug design helps minimize package cost and contribute to material source reduction. "The challenge was to engineer a design that creates an effective cap-to-bottle seal for aseptic drink products without using a liner. The plug design had to mate with the bottle finish inner surface to create an effective seal. It also had to withstand stringent aseptic filling conditions," explained Roy Robinson, vice president of business development, Portola Packaging. Portola's new Steri-Shield(TM) aseptic linerless plug closures are compression molded using a proprietary resin blend which includes high-density polyethylene. The end result is a lightweight closure which does not fail (stress crack, back-off, etc.) during the sterilization and/or distribution process. Additionally, the structure can withstand an aseptic sterilization environment of up to 140 degrees Fahrenheit. "Brand owners are constantly looking for ways to meet consumer needs. Not only does Portola's new plug closure design deliver the desired seal performance, but it is easier for consumers to open because there is no liner to negatively impact torque," said Robinson. The commercialization is being backed by shelf-life testing protocols that Portola developed internally to predict the performance of the plug closure over time. Computer modeling was used to accurately project shelf life and other performance attributes to make sure that the closure would meet aseptic drink performance expectations. Portola's new Steri-Shield(TM) plug closures can be made in a variety of sizes ranging from 38 to 43mm, with or without a tamper-evident band. The cap is ideally suited for a wide range of aseptically-filled beverages including: juices, isotonics, dairy, energy drinks, milk, vitamin waters, drinkable yogurt, teas and others. "Brand owners have had ongoing issues with lined closures in aseptic applications. Consumer complaints regarding removal difficulty is just one of them. Our new aseptic plug closure capability is just another example of Portola's dedication to developing customer-driven closure solutions," Robinson said. About Portola Packaging
Portola Packaging, Inc. is a leading manufacturer of stock and custom tamper-evident plastic closures and containers for dairy, juice and other food segments. The company is known for its superior product integrity, technical capability, global manufacturing footprint and speed-to-market. For more info:
www.portpack.com
. Please forward sales inquiries to:
Roy Robinson
Portola Packaging, Inc.
40 Shuman Blvd., Suite #220
Naperville, IL 60563
Phone: (630) 701-9443
Email: rrobinson@portpack.com