Product News: Electrical Equipment & Systems
LED Tubes offer energy-efficient neon alternative.
Press Release Summary: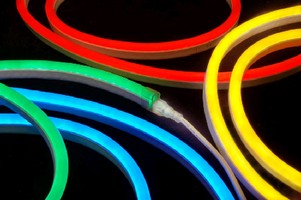 August 11, 2006 - In addition to color generated by LEDs, LED-ColorFLEX(TM) Tubes contain color specific dyes that enhance color brightness in daylight hours as well as night. UV-protected tubes can bend up to 180°, contain no harmful gases, and can be custom cut and shaped on-site. LED lamps used for illumination require as little as 1.92 W of energy/ft. Completely sealed and impervious to shock or vibration, LED-ColorFLEX is suited for outdoor use and areas subject to vibration.
Original Press Release
New Mule LED-ColorFLEX(TM) Stays Brilliant Day and Night
Press release date: July 11, 2006
-- Flexible LED-based lighting system now color specific -- Energy-efficient neon alternative reduces operating costs by up to 90% -- Solid state technology ideal for demanding applications Providence, RI -- Mule Lighting has added a new line to their popular LED-FLEX(TM) lighting system. LED-ColorFLEX(TM) offers the same features that have made its LED-FLEX cousin such a successful neon replacement -- flexibility, durability, and LED-based energy efficiency -- and now provides color specificity as well. In addition to the color generated by the LEDs (light emitting diodes), LED-ColorFLEX tubes contain color specific dyes that enhance color brightness in daylight hours as well. LED-ColorFLEX tubes are available in Red, Blue, Green, Yellow, and Orange. Mule's LED-FLEX lighting system has gained popularity among architects, designers, builders and facilities managers who like the look of neon, but want a more energy efficient and versatile alternative. Like LED-FLEX, LED-ColorFLEX has the same appearance as traditional neon lighting, but requires less energy, is more flexible and durable, and can be used in many applications where neon is not appropriate. LED-ColorFLEX is a system of durable UV protected tubes lined with LED lamps and color-specific dyes for illumination. The system is flexible enough to bend up to 180 degrees, offering a user-friendly alternative to delicate, glass-based neon bulbs. LED-ColorFLEX from Mule contains no harmful gases, making it safe to handle, and can be custom cut and shaped on-site, without the need for specially trained personnel. "Our new LED-ColorFLEX lighting system looks exactly like traditional neon, and provides brilliant color day or night," said Rob Cross, VP at Mule Lighting. "In addition to reducing energy and maintenance costs, LED-ColorFLEX is completely sealed and impervious to shock or vibration, making it suitable for outdoor use, for areas subject to vibration, and even wet applications." The LED lamps used for illumination in LED-ColorFLEX require as little as 1.92 watts of energy per foot, making them 10 to 50% more energy efficient than traditional lighting, including neon. This reduction in energy consumption makes LED-ColorFLEX a cost-effective and environmentally sound alternative to neon lighting in many applications. LED-ColorFLEX is also more stable than neon. While neon, incandescent and fluorescent lighting sources rely on a combination of filaments and/or gases, which fail after a limited number of hours, LED-ColorFLEX uses a semi-conducting material that converts electricity directly into light, which is then enhanced by the color-specific dyes. The LED technology allows LED-ColorFLEX to last up to 100,000 hours, which translates into more than 10 years if run continuously. This drastically reduces maintenance time and cost. "LED-ColorFLEX will save all users on maintenance costs when compared to neon," said Cross. "But these savings become more significant in settings like casinos that have constant traffic, or the exterior of high-rises or bridges, where routine maintenance requires extraordinary -- and expensive -- safety precautions be taken." LED-ColorFLEX gives off minimal levels of heat and can be used in areas that may come in contact with people, products or decorative materials. Appropriate for both interior and exterior applications, the LED-ColorFLEX lighting system is ideal for architectural borders on high-rise buildings, casinos, signage, step and path lighting, bridges, cruise ships, amusement park rides, hotels, cove lighting, retail stores, display cases and shelves, freezers and refrigerators, to name a few. Mule Lighting, Inc., is a custom manufacturer of quality lighting and battery related products, including Exit Signs, Emergency Lighting, Battery UPS Systems, Battery Chargers and Rechargeable Batteries. Mule's line of patented LED (light emitting diode) bulbs offers energy saving and cost-efficient alternatives to traditional incandescent lighting fixtures. Several of Mule's patented lighting options have earned the Energy Star of approval for conservation. Electrical Construction & Maintenance magazine has named LED-FLEX(TM) a winner of the EC&M 2005 Product of the Year award, in the category of Lighting Systems. For additional product information, contact: Mule Lighting, Inc. 46 Baker Street Providence, RI 02905 Tel: 800-556-7690 or 401-941-4446 Fax: 401-941-2929
mulelighting.com
Email: rob@mulelighting.com