Product News: Display & Presentation Equipment
LED Tape Light from NSL with flexibility to use indoors or outdoors.
Press Release Summary: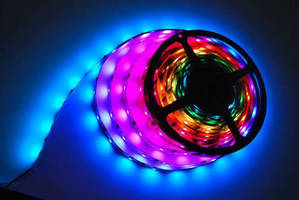 October 18, 2016 - Delivering light output from 2.1 to 5.8 watts per foot, the extrusions on LED Tape Light from NSL are used in recessed and cabinet applications. Featuring 4" cuttable field for LTP-20 high power model and 6.5" for low power model, high brightness 5060 SMD LEDs for 3528 RGB series, LTP-CCT in 4.8m, low power consumption with 120° viewing angle, high lumen output, LED lights come with a life of 50,000 hours. Lights can be concealed or used for lighting patios.

National Specialty Lighting, Inc - Louisville, CO
Original Press Release
NSL announces Tape Light
Press release date: October 11, 2016
NSL offers a large variety of LED Tape Light ranging from 2.1 watts per foot to 5.8 watts per foot.
Tonawanda, New York; National Speciality Lighting announces LED Tape Light combines high light output associated with standard fixtures with unique flexibility allowing it to be concealed in the tiniest of coves, under cabinets or showcases. It is also available in an outdoor version for patios, decks, back lighting and many more applications.
It delivers remarkable light output at just 2.1– 5.8 watts per foot depending upon model chosen. Our extrusions are ideal for recessed or in cabinet applications. LED Strip is also available in RGB color change for dramatic effects!
Key features include;
High brightness 5060 SMD LEDs (3528 for color adjust series)
Field cuttable every 4" for LTP-20 High Power model and every 6.5" for LTP-20-LP low power model
Low power consumption
Available in 20' (6.1m) rolls
LTP-CCT available in 16' (4.8m)
Safe, 24V class 2 power supplies (sold separately)
Fully dimmable with dimmable power supplies
120° viewing angle
Available in Cool White (6500K), Warm White (3000K), RGB Color Change and Color Adjust (2500K – 7000K)
Long life 50,000 hours
High lumen output 325 lm/ft. (304mm) for Cool White
High lumen output 285 lm/ft. (304mm) for Warm White
Available in outdoor or indoor models
3 year limited warranty
About National Specialty Lighting
National Specialty Lighting brings you 28 years of lighting innovation. A strong leader in architectural and decorative lighting, our product range includes the latest in LED technology, fiber optics and traditional lighting products. Our fully stocked Burlington warehouse and many stocking electrical distribution channels across Canada assure prompt delivery to the job site. A dedicated, experienced inside sales, support staff, and highly professional national sales force are here to serve you. Please visit us at
http://www.nslusa.com
Or view our online catalogue at
http://nslusa.com/ckfinder/userfiles/files/NSL_Catalog.pdf
For More Information please contact:
Mr. Jeff Harris
Senior Vice President Business Development
2299 Kenmore Ave
Tonawanda, NY 14207 T 800.527.2923
F 800.527.4358
jeff@nslusa.com