Product News: Controls & Controllers
LED Management Tools provide wireless power, dimming control.
Press Release Summary: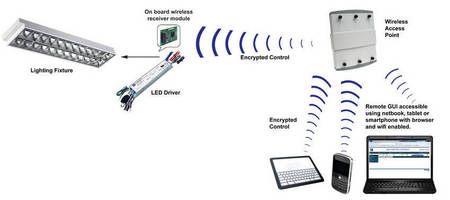 November 30, 2012 - Without requiring any physically mounted wall controls, remote access tools allow administrators to power, dim, shut off, program, and reset networked indoor, outdoor, and architectural LED lighting from any Web-enabled computer, PDA, or tablet. Customized drivers feature on-board module that can receive and relay commands via WAPs, and users can control networked lighting installations via cloud-based, remote access GUI.
Original Press Release
New Wireless LED Management Tools Provide OEMs with More Power to Customize their Projects...
Press release date: November 15, 2012
PHIHONG ANNOUNCES WIRELESS POWER AND DIMMING CONTROLS FOR OEM LIGHTING APPLICATIONS
Fremont, CA – Phihong USA, a leading global supplier of power solutions for OEM lighting technologies, has developed a new series of remote access tools that provide users with greater control over their LED lighting installations. Compliant with indoor, outdoor and architectural lighting installations, the new remote access tools allow administrators to power, dim, shut off, program and reset networked lighting applications from any web-enabled computer, PDA or tablet.
"Wireless controls allow users to set and dim multiple lights via remote controls or local area networks using their laptop, smartphone or tablet device," said Keith Hopwood, vice president of marketing for Phihong USA. "They also allow users to save time and money during the installation process by not requiring physically-mounted wall controls, which require additional AC wiring."
Phihong's customized drivers feature a new on-board module that can seamlessly receive and relay commands via wireless access points (WAPs).  The new module enables users to remotely power, dim, shut off, program and reset networked lighting installations using a cloud-based, remote access graphical user interface (GUI) that is accessible by any Wi-Fi enabled device with an Internet browser.
Phihong has also developed its own wireless access point, which operates on 802.11b and 802.11g bandwidths at 2.4GHz. Featuring enhanced 802.11i security on the data transfer, the WAP is equipped with standard WEP64/128, TKIP (WAP-PSK) and AES (WPA2-PSK) encryption. Powered by a 5VDC micro USB port, Phihong's WAP also meets worldwide electrical and radio standards and is compatible with networks in North America, Europe, Asia, Australia and New Zealand, among others.
Phihong's wireless access LED lighting controls are only available by special order and minimum order quantities may apply. For more information about technical specifications, ordering information or our other OEM partner services, please contact your regional Phihong sales representative.  For a complete list of sales representatives, please visit http://www.phihongusa.com/html/representatives.html.
About Phihong
As a world leader in the development of world class power solutions, Phihong is one of the leading suppliers of adapters, power supplies, LED drivers and Power-over-Ethernet products to OEMs serving datacom, telecom, personal electronics, networking, lighting, and industrial markets. Phihong has a truly global reach with design labs, manufacturing facilities and sales support centers in California, New York, The Netherlands, China, Japan and Taiwan. For more information contact Richard Huang, Phihong USA Corporation, 47800 Fremont Blvd., Fremont, CA 94538, or call (510) 445-0100, fax (510) 445-1678, usasales@phihongusa.com or visit
www.phihong.com/LED.