Product News: Optics & Photonics
LED Light Handle works with variety of borescopes.
Press Release Summary: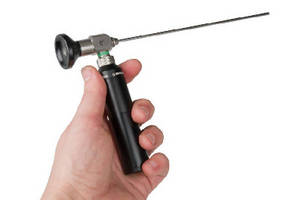 June 25, 2014 - Powered by rechargeable 2,000 Ah, 3.6 V Li-ion battery, SPARK XTR LED Borescope Light Source operates at full intensity for up to 50 minutes, eliminating need for external light sources and cords. Special focal lens design allows unit to focus and shape light at end of scope, providing intense illumination where it is needed most. Offering operational life up to 50,000 hours, light source comes with standard Storz connection and uses one button to control all operations.
Fiberscope.net by MEDIT - Winnipeg, MB, CAN
Original Press Release
New Super Intense LED Light Handle
Press release date: June 23, 2014
Eliminates the Need for External Light Sources and Cords, Delivering Bright, Focused Illumination at a Single Push of a Button 
Medit Inc, one of the most trusted online suppliers of NDT equipment in North America is pleased to announce a new product available for purchase online – LED Borescope light source SPARK XTR.
The SPARK XTR is a compact, yet extremely powerful, light handle compatible with different endoscopes from a variety of manufacturers. It comes with a standard Storz connection and can be attached even to flexible fiberscopes.
The quality and intensity of light delivered by the SPARK XTR by Medit Inc. can be compared to that of stand-alone units with the exception of extremely light weight and compact design. It is also battery-operated, which is important for highly efficient inspections especially when the external power supply is not available. It runs on a rechargeable 2,000 Ah, 3.6 V Li-ion battery with up to 50 minutes of operation at full intensity and weighs only 3.8 oz  (105g) with the battery and 3 oz  (90g) without it.
The SPARK XTR features a special focal lens design that allows the unit to focus and shape the light at the end of the scope, providing highly intense illumination where it is most needed with very efficient use of energy. Besides, the extremely powerful LED light element has a much longer operational life in comparison with metal halide lamps – up to 50,000 hours.
The light source is equipped with only one button that controls all unit's operations, which contributes to its overall ease of use and efficiency. 
"The SPARK XTR is a great light source to have as it offers exceptionally intense illumination and comfortable operation at a very competitive price" – Terry Peristerakis, Medit Inc. Sales Manager
To review or purchase this Light Source go to:
http://www.fiberscope.net/spark-xtr-led-for-borescopes-endoscopes.html
About Medit Inc.
MEDIT Inc., located in North America, is one of the most reliable online suppliers of NDT equipment. The company has been successfully operating in medical, industrial and veterinary markets in over 30 countries for more than a decade and is fast becoming one of the largest players in the industry. Medit Inc is committed to offering the latest and optimal solutions for professionals in remote visual inspections. To see the full range of inspection equipment follow here:
http://www.fiberscope.net/