Product News: Electrical Equipment & Systems
LED Lamps replace 35-50 W halogen MR16 lamps. .
Press Release Summary: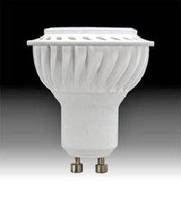 January 10, 2014 - Consuming 6 W, LED PARfection™ MR16 Lamps provide 430, 450, or 465 lumen output with 71.7, 75, and 77.5 lm/W, respectively. Units are available in color temperatures of 2,700, 3,000, and 4,000°K with beam-spread choices of 25° Narrow Flood or 40° Flood. Center-beam candlepower output ranges from 800–865 with Flood beam spread, and 2325–2515 with Narrow Flood beam. Available in both GU 5.3 bi-pin and GU-10 bases, lamps have parabolic-reflector shape with multifaceted reflector.
LiteTronics International, Inc. - Alsip, IL
Original Press Release
"Parfect" LED Lighting Now Available in Highly Efficient MR16 Lamps, Exclusively From Litetronics® For Indoor Applications
Press release date: January 7, 2014
New Product Introduction – LED PARfection™  MR16 lamps allow professional lighting specifiers, facilities managers, energy engineers, maintenance engineers and electrical contractors to achieve instant and long-term energy savings, simply by replacing existing 35-50w halogen MR16 lamps with new 6w LED PARfection™  MR16 lamps. 
Generating over 70 lumens per watt (LPW), these new models are among the most energy-efficient MR16 lamps available to date for lighting professionals. Significant energy savings start accruing the second it takes to simply insert a Litetronics® LED PARfection™  MR16 lamp, in any new or retrofit installation.
Design:  Litetronics® International, a U.S. company supplying state-of-the-art lamps to America and other markets for more than 43 years.
Product Applications:  LED PARfection™ MR16 lamps provide seamless one-for-one replacements for existing halogen MR16 lamps. They can be used for new or retrofit installations in commercial, institutional or residential interior track and recessed light fixtures.  LED PARfection™ MR16 lamps are ideal for applications requiring high-performance maintenance-free long-life.
These include corporate offices and product showrooms; hotels, resorts, restaurants, clubs, theaters and other entertainment venues; schools, colleges, training centers; apartments, condominiums and multiunit family residences. LED PARfection™ MR16 lamps are visually pleasing, highly directional, and have a parabolic-reflector (PAR) shape with a multifaceted reflector (MR). They are available in both GU 5.3 bi-pin and GU-10 bases.
Product Description:  LED PARfection™ MR16 lamps have a sophisticated, uniform design.  They replicate that of 35w and 50w halogen MR16s, with far superior energy efficiency and up to 10x longer lamp-life. 
They consume just six watts; have a rated life of 25,000 hours; are available in a range of color temperature including 2700°K, 3000°K and 4000°K; with beam-spread choices of 25° Narrow Flood, 40° Flood.  Lumen output at six watts ranges from 430, 450 or 465, with concurrent lumens per watt of 71.7, 75 and 77.5 respectively.  Center-beam candlepower (CBCP) output ranges from 800 to 865, with Flood beam spread, and 2325 to 2515 with Narrow Flood beam.
LED PARfection™ MR16 lamps are ETL listed for electrical safety; meet FCC qualifications for low electrical interference and noise when operating; are RoHS Compliant, Restrictive of Hazardous Substances; are completely lead- and mercury-free.  Light is instant-on, full brightness.  Units employ the exclusive Litetronics® Thermal-Breeze™ cooling system to wick-away excess lamp heat, and typically exhibit 88% energy savings compared to MR16 halogen lamps.  LED PARfection™ MR16 lamps meet ANSI specs and fit into gimbal-ring and other standard MR16 fixtures.
Contact Information:  Learn more about innovative LED PARfection™ MR16, or many other Litetronics® advanced-design energy-saving light sources and customer capabilities, by visiting us on line at: 
www.Litetronics.com
.   Litetronics® is located at 4101 West 123rd Street, Alsip, Illinois  60803.  Telephone toll free:  (800) 860-3392.  Telephone: (708) 389-8000.  Fax: (708) 371-0627.  Email: 
CS@Litetronics.com
.