Product News: Electrical Equipment & Systems
LED Lamps provide emergency lighting in nuclear power plants.
Press Release Summary: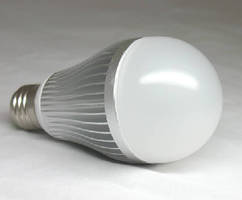 August 26, 2014 - Designed to replace 60 W A19 style incandescent bulbs in nuclear power facilities, DDP LA-11-4/130ACDC Series offers over 1,000 lumens of output while drawing 11 W. Units deliver full brightness on 40–130 Vac/Vdc input and will illuminate seamlessly when power switches from AC to DC. Incorporating high light-extraction LED technology, lamps provide upwards of 100,000 hours of operating life.
DDP Engineered LED Solutions - El Segundo, CA
Original Press Release
Nuclear Plants Realize Margin Gain Using Unique LED Lamp for Emergency Lighting System
Press release date: August 25, 2014
EL SEGUNDO, Calif. – DDP, a leader in Engineered LED Solutions, has developed a unique solid-state LED lamp for emergency lighting applications to replace 60W A19 style incandescent bulbs used in nuclear power facilities. The DDP LA-11-4/130ACDC Series is designed to provide full brightness on input power ranging from 40V to 130V, either AC or DC.  Offering over 1000 lumens of output, these lamps draw only 11W compared to 60W incandescent bulbs.  The lower power draw provides both normal operation energy savings as well as margin gain back by extending battery life of critical emergency and safety systems.
In 2011 the Fukushima Daiichi nuclear disaster in Japan precipitated the NRC's evaluation of safety systems in US plants. All licensed nuclear plants were mandated to review safety and back-up systems in light of a catastrophic natural disaster where AC power may fail and remain in power-down state for an extended period of time.  Area lighting in most facilities uses AC power for normal operation and switches to DC battery power during station-black-out conditions.
The DDP LA-11-4/130ACDC LED lamp is designed to illuminate seamlessly when power input switches from AC to DC power.  Additionally, this versatile lamp will continue to provide illumination at input levels as low as 40V in AC or DC mode.
"We designed our LA-11-4/130ACDC lamp in response to numerous requests from nuclear power plant engineers across the country. The incandescent bulbs cause a high draw on emergency battery systems.  By switching hundreds of these 60W lamps to 11W LED lamps the facilities achieve margin gain back on these critical emergency lighting systems." explains Tony Toniolo, DDP President.
The DDP LA-11 incorporates high light-extraction LED technology providing upwards of 100,000 hours of operating life.  Installation of hundreds of these lamps throughout a facility translates into tens-of-thousands of dollars savings in maintenance cost for lamp changes and battery degradation.
For more information, or to talk to one of DDP's LED engineering experts, contact DDP at 445 South Douglas Street, El Segundo, California 90245; e-mail
techsupport@ddpleds.com
; call (800) 421-6815; or go to
www.ddpleds.com
.