Product News: Electrical Equipment & Systems
Latching Micro-D Connectors meets military specifications.
Press Release Summary: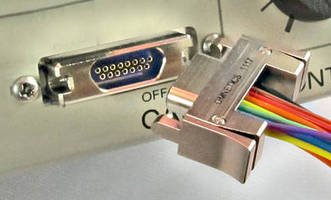 March 28, 2014 - Able to be mated or un-mated without screwdriver or hand tools, latching Micro-D™ connector meets/exceeds MIL-DTL-83513 specifications and can be used even by those wearing bulky gloves. Push-and-latch design has finger grips that aid field operation, and squeeze-latch system accelerates connections. Available in shell styles from 9–51 contacts and at both .025 and .050 in. spacing connector offers incorporates one-piece flex pin design for shock and vibration resistance.
Omnetics Connector Corporation - Minneapolis, MN
Original Press Release
Omnetics Announces New and Improved Latching Micro-D(TM) Connectors
Press release date: March 20, 2014
Ideal for high shock and vibration applications
Omnetics Connector Corporation, a worldwide designer and manufacturer of micro and nano miniature interconnect products, announces its new and improved latching Micro-D™ connector, which can be mated or un-mated without the need for a screwdriver or hand tools. Built to meet or exceed the testing specified in MIL-DTL-83513 specifications, the small, lightweight, high strength latching Micro-D connectors have passed extensive shock and vibration testing, and are ideal for use in military, aerospace, oil and gas exploration, and robotics applications.
The new push-and-latch design incorporates finger grips to assist field operation, and can be used by those wearing bulky gloves or no gloves at all. The squeeze-latch system provides quick cable connections to mating connectors and panel equipment and the rapid connection and release offers proven signal integrity for portable and ruggedized electronics applications. Complications from uneven turning of traditional threaded hardware are no longer a problem. Also available is an adapter that provides easy mounting of the squeeze latch system on existing Micro-D connectors.
The new design significantly reduces the time and effort required to plug a Micro-D connector into a circuit, making them an excellent choice for systems that require more frequent module changing, and rapid field replacement of systems where additional tools may not be available. The latching Micro-D is perfect for portable electronic modules and instruments, unmanned vehicles, and optical surveillance systems, as well as electronic bit sensor and controls in petroleum down hole drilling equipment.
Now made with stainless steel latch material, the high reliability latching Micro-D connector exceeds 200 pounds of pull force. Available in shell styles from 9 to 51 contacts, and at both .025-inch and .050-inch spacing, the latching Micro-D connector incorporates Omnetics' unique one-piece flex pin design for greater shock and vibration resistance. The gold-plated flex pin is designed for more than 2,000 mating cycles.
Press Contacts:
Kristin Nugent 
617.367.0100 ext. 148 
kristin.nugent@mgr1.com
About Omnetics
Omnetics is a world class connector design and manufacturing company with more than 30 years of experience in micro-miniature and nano-miniature high reliability electronic connectors and interconnection systems for military, aerospace, defense, medical and other technology-oriented original equipment manufacturers. All our products are designed and assembled at our AS9100/ISO9001-qualified plant in Minneapolis, MN, which includes in-house automatic machining and over-molding capabilities. Omnetics maintains a large off-the-shelf (COTs) inventory, a wide range of standard designs, and also specializes in customized interconnects.