Product News: Sensors, Monitors & Transducers, Communication Systems & Equipment
Laser Radar Sensor delivers high accuracy, dynamic positioning.
Press Release Summary: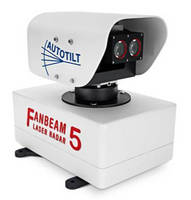 June 3, 2014 - Fanbeam provides repetitive dynamic positioning to offshore support vessels and other marine structures. While adding performance and stability through control software that increases reliability of single-target tracking capability, system allows multiple operator stations for when control needs to be transferred between bridge personnel. Target tracking and modeling prevent spurious targets from causing drive off, and intelligent clutter rejection provides clear signals.
Original Press Release
New Fanbeam Laser Radar Delivers High Accuracy Dynamic Positioning to Offshore Support Vessels
Press release date: June 1, 2014
Latest version of popular laser positioning system, now produced at Renishaw's UK assembly facility, includes new control software for increased reliability of single-target tracking.

The new Fanbeam laser radar sensor from Renishaw's Spatial Measurement division provides repetitive, high-accuracy dynamic positioning (DP) to offshore support vessels (OSV) and other marine structures. This next-generation system adds greater performance and stability through new control software that increases reliability of its single-target tracking capability, and allows multiple operator stations for situations where control needs to be transferred between bridge personnel. The new software's advanced target tracking and modeling prevent spurious targets from causing a drive off, while the intelligent clutter rejection capability provides clearer signals for a better understanding of the operational environment. A training package with a fully featured, realistic simulator is also included.

The Fanbeam system uses position data to automatically hold vessels on station, and is typically the primary position reference during critical short-range operations, such as cargo container lifts from platform supply vessels. The system provides collision avoidance, gangway monitoring and docking assistance on vessels operating in crew supply, anchor handling tug supply, construction support, dive support, dredging and rock dumping capacities. Other applications include seismic source positioning for geophysical exploration vessels and positioning of mine detection equipment.

The system uses a laser sensor with a unique vertically "fanned" output, allowing returns to be observed from passive retro-reflective targets despite relative movement of the vessel. Accurate to 20 cm, the laser rotates horizontally in both directions via motorized base, and can be tilted ± 15° in the vertical plane using a built-in Autotilt mechanism with servo-driven gearbox. The motorized yoke has a software-selectable scanning speed up to 50°/s, horizontal range of 0° to 360° and 0.01° horizontal resolution. A reflective tube target is used for short-range operations, while various prism cluster target options allow long-range operations up to 6562 ft (2000 m).

Built for harsh environments, the system's operating temperature range is -13°F to +158°F (-25°C to +70°C), with a water/dust resistance rating of IP66, and is EN 60945/EN 609950-1:2001 compliant. A marine-grade embedded PC and machined aluminum enclosure equip the system for rugged use. The compact system is approximately 8"W x 12"L x 11.5"H (200 x 300 x 290 mm) and weighs only 28 lbs. (12.9 kgs).

Fanbeam Production Moves to Award-winning Renishaw Facility
After acquiring Measurement Devices Limited (MDL) in 2013, Renishaw recently moved production of Fanbeam systems to its assembly facility in Gloucestershire. The facility was named the UK's Best Electronics Plant in 2012. "Vessel operators depend on Fanbeam systems for reliable, safe operations in tough conditions," said Keith Park, Marine Business and General Manager, Renishaw. "Now, they can have confidence that these systems are produced at one of the world's best design, production and servicing facilities."

With more than two decades in the field, Fanbeam is the most widely used DP reference system in the world. For more information on Fanbeam, contact Cam Thomas at cthomas@mdlcanada.com. For a detailed look at other productivity enhancements for metrology, linear and rotary position feedback, and machine tool calibration, visit Renishaw's web site at: www.renishaw.com.

Contact
Jeffrey Seliga
Renishaw, Inc.
5277 Trillium Blvd.
Hoffman Estates, IL 60192
Tel: 847.286.9953
Fax: 847.286.9974
Jeffrey.seliga@renishaw.com

or

Jeff Drum
Kemble & Drum Communications, Inc.
4242 Airport Rd.
Cincinnati, OH 45226
Tel: 513.871.4042
Fax: 513.871.4895
jdrum@kembledrum.com

Inquiries should be directed to:
In USA: Susan Wilm, Marketing Assistant, Renishaw Inc., 5277 Trillium Blvd., Hoffman Estates, IL 60192. susan.wilm@renishaw.com Tel: 847.286.9953

In Canada: Dafydd Williams, General Manager, Renishaw (Canada) Limited, 2180 Dunwin Drive, Unit #1, Mississauga ONT L5L 5M8. dafydd.williams@renishaw.com Tel: 905.828.0104