Product News: Machinery & Machining Tools
Large Part HMC combines capacity, stability, productivity.
Press Release Summary: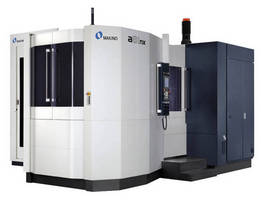 April 10, 2014 - With automatic tool changer and respective full X-, Y-, and Z-axis travels of 35.4, 35.4, and 40.2 in., a81nx features 10,000 rpm spindle as standard that affords 305 Nm duty-rated torque and 45 kW extended-duty power (26 kW continuous). Optional 8,000 rpm spindle affords 553 Nm duty-rated torque and 37 kW continuous output. Built for rigidity and reliability, HMC also features GI servo control mode; chain-type, 80 tool capacity, automatic tool change magazine; and facilitated maintenance.
Original Press Release
New a81nx HMC Brings Next-Generation Productivity for Large-Part Machining
Press release date: April 2, 2014
Mason, Ohio — Makino is pleased to introduce the new a81nx horizontal machining center. Like Makino's other nx-Series horizontal machining centers, the a51nx and a61nx, the a81nx extends the capabilities of its 1-series predecessor with expanded machining capacity, improved rigidity and stability, improved productivity and enhanced reliability.
"The a81nx builds on the success of the original a81 platform and sets a new standard for large-part machining performance," said Dave Ward, horizontal product line manager at Makino. "There have been enhancements made to the bed and column castings of the machine, expansions in the tool magazine and Y-axis travels, spindle design improvements for faster acceleration and deceleration times, and a host of additional features and advancements to improve ergonomics, maintenance and machine uptime."
When it comes to large-part machining, a limited work zone can hinder even the most efficient cutting processes and technologies. This is the reason why the a81nx features a 100-mm extension of the Y-axis column, bringing full-axis travels along the X, Y and Z axes to 35.4 inches, 35.4 inches and 40.2 inches (900 mm, 900 mm and 1,020 mm), respectively. The increased Y-axis travel is especially beneficial for automotive parts such as engine blocks and cylinder heads, where the critical mating surfaces require feed-on/feed-off milling passes for optimal sealing.
Large parts also commonly contain a substantial volume of features that can range greatly in size, requiring quick accessibility to diverse tool types and sizes. The a81nx provides a robust automatic tool changer (ATC) that is designed to handle larger-diameter, longer and heavier tooling. This large tool capacity ensures that manufacturers are able to efficiently machine a variety of large part features.
Improved Productive Capabilities
For improved speed and productivity, the a81nx is standardly equipped with a 10,000-rpm spindle that affords 305 Nm of duty-rated torque and 45kW of extended-duty power (26 kW of continuous output). Duty-rated power levels have increased 25 percent over the previous model. Such an enhancement dramatically reduces spindle acceleration and deceleration times, saving 20 to 30 percent in tapping processes.
An optional 8,000-rpm, high-torque spindle configuration is also available for manufacturers working with hard metals. With 553 Nm of duty-rated torque and 37 kW of continuous output, this spindle option delivers 19 percent more continuous power output over the previous high-torque spindle, enabling manufacturers to take on more aggressive cutting conditions in ferrous and difficult-to-machine materials.
Other advanced productivity features of the a81nx include a new GI servo control mode that can reduce pocketing times for aluminum billet applications, and a new chain-type, 80-tool-capacity automatic tool-change magazine for reduced tool-seek times.
Enhanced Rigidity and Reliability
Makino's 1-series horizontal machining centers have a reputation for endurance and toughness. The nx-Series machines leverage this proven design to enhance rigidity and reliability with several new, advanced features.
The a81nx bed, column and table castings feature enhanced build qualities, including an increased step height between the front and rear X-axis linear guide for improved strength and higher acceleration. For greater stiffness and reliability in higher load capacities, the machine uses roller-type linear motion guides. The a81nx B-axis table is available in two configurations—index and NC rotary. Each configuration has been redesigned for improved rigidity, including a larger curvic coupling diameter within the index table and the use of a three-roller-type bearing in the NC rotary table for superior rigidity and thrust support.
With millions of tool changes occurring during the life of a machine, the reliability of the ATC is crucial. The nx-Series machines feature a high-speed servo-driven ball screw that actuates the ATC shutter door, improving responsiveness, ease of setup and maintenance. The servo axis also reduces exposure of the ATC to the work envelope. The additions of taper-cleaning air-blow station and tool-seat detection ensure that all tools are clean and properly seated in the spindle. The net result is improved reliability and cleaner ATC environments.
Ergonomics for Ease of Maintenance
In order for machines to reach maximum efficiency, they must be designed to provide operators with a comfortable and user-friendly work environment. The ergonomically friendly, L-shaped door design of the a81nx offers operators greater accessibility to the spindle, enhanced visibility for inspection of the tool or part and coolant drip prevention at the doorway. Additionally, preventive maintenance features on the a81nx have been relocated to a concentrated area on the machine's back panels for easy access.
The safety-guard door on the automatic pallet changer (APC) has an adjustable height for the operation panel and can be moved to match the level of the operator's work platform. A wider APC stocker improves the loading of large fixtures and workpieces, and allows easy chip cleaning.
The addition of a tool-loading station on all magazines helps improve the ergonomics of handling large, heavy tools. A touch-type human machine interface panel is also available on all 80-tool capacity ATCs or larger, providing an easy way to manage tool data while at the ATC magazine.
About Makino
A world leader in advanced CNC machining centers, Makino is committed to providing high-performance, leading-edge machining technologies and innovative engineered process solutions that enable manufacturers to focus on making what matters. Makino offers a wide range of high-precision metal-cutting and EDM machinery, including horizontal machining centers, vertical machining centers, 5-axis machining centers, graphite machining centers, and wire and Ram EDMs. Makino's flexible automation solutions provide reduced labor costs and increased throughput in a variety of production volumes and designs. Makino's engineering services offers industry-leading expertise for even the most challenging applications across all industries. For more information, call 1-800-552-3288 or visit makino.com.
For more information, additional images and releases, visit
makino.com/media
. Connect with Makino on Facebook at
facebook.com/makinomachine
. Follow Makino on Twitter at
twitter.com/makinomachine
.