Product News: Computer Hardware & Peripherals
Large-Format Color Plotters meet engineering demands.
Press Release Summary: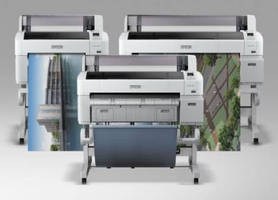 November 9, 2012 - Designed to meet requirements of architects, engineers, and GIS professionals, SureColor® T3000, T5000, and T7000 offer respective max print widths of 24, 36, and 44 in.; use UltraChrome® XD pigment ink, and deliver resolutions to 2,880 x 1,440 dpi. Products can produce presentation quality D-size plot in as little as 25 sec and up to 110/hr, and MicroPiezo® TFP® Print Head delivers line widths as thin as 0.018 mm. Other features include output stacking basket and color LCD control panel.
Epson America, Epson Mechanisms - Long Beach, CA
Original Press Release
Epson Enters Large-Format Technical Plotting Market with Groundbreaking Epson SureColor T-Series for Architects, Engineers and GIS Professionals
Press release date: October 24, 2012
SureColor T3000, T5000 and T7000 Lead Industry with Unparalleled Precision, Performance and Value for Engineering and Scientific Communities

LONG BEACH, Calif. -- Epson America today introduced a new line of large-format color plotters designed to meet the specific requirements of today's engineering and scientific professionals - the Epson(®) SureColor(®) T3000, T5000 and T7000. Marking Epson's entry into the technical printing market, the SureColor T-Series offers architects, engineers and GIS professionals an unprecedented combination of precision, performance and value with the fastest plotting speeds in its class, industry-leading plotting accuracy and all-new Epson UltraChrome(®) XD pigment ink for brilliant, crisp output on virtually any media type.

"The SureColor T-Series was developed based on direct feedback from architects and engineers who consistently underscored the need for easy and reliable ways to make accurate, large-format plots quickly and cost effectively," said Timothy Check, product manager, Professional Imaging, Epson America, Inc. "The SureColor T-Series not only meets those needs, but goes beyond, integrating Epson's long-standing photo heritage and printing technology innovation into a complete line of state-of-the art plotters."

Built from the ground up using all-Epson engineering, and incorporating the latest in printing technology, the Epson SureColor T-Series delivers extreme line accuracy with resolutions up to 2880 x 1440 dpi at some of the fastest speeds in its class - producing a presentation quality D-size plot in as little as 25 seconds and up to 110 per hour(1). For added performance, the SureColor T-Series plotters feature a convenient output stacking basket that organizes up to 20 A1/D- or A0/E-sized plain paper plots for quick retrieval and to reduce sorting time.

The SureColor T-Series also features Epson's latest ink technology, Epson UltraChrome XD pigment ink, delivering crisp lines, brilliant color and photographic quality on virtually any paper type for accurate prints that are truly archival and extremely smudge and water-resistant. For added flexibility, the T-Series ink cartridges are available in 110 ml, 350 ml, as well as a high-capacity 700 ml size to lower overall printing costs and to accommodate a range of printing tasks.

More about the SureColor T-Series

The SureColor T3000, T5000, and T7000 offer architects, engineers and GIS professionals a range of value-add features that help increase productivity, including:

--  Three Plotter Widths: The SureColor T3000, T5000 and T7000 feature maximum print widths of 24, 36, and 44-inches respectively with minimal floor space requirements to fit virtually anywhere.
--  Epson UltraChrome XD Ink: An all-new Epson pigmented ink delivers brilliant color and crisp lines on virtually any paper type, as well as truly archival and extremely smudge and water-resistant output.
--  Varied Ink Capacities: To maximize efficiency and keep printing costs low, each of the five colors - Cyan, Magenta, Yellow, Photo Black, and Matte Black - are available in 110 ml, 350 ml and a large capacity 700 ml capacity, which can be used interchangeably to accommodate a range of printing needs. All cartridges are front-loading for easy access.
--  Epson MicroPiezo(® )TFP(®) Print Head: Offers high-performance and consistency for precise plotting with highly accurate line placement and minimum line widths as thin as 0.018 mm, along with an extremely robust design that will produce consistent quality print after print.
--  Current and Future-Ready Print Language: Epson Precision XD printer language sets a new standard for high-performance, high-resolution printing, compatible with today's latest applications and workflow software.
--  Optional Internal Print Server: An internal 250GB hard drive releases workstations for unattended plotting and features a web server for print queue management and printer maintenance.
--  Control Panel: Full color LCD panel with simple button layout provides quick access to printer features and controls, as well as an intuitive help system for most frequent tasks.

Pricing, Support and Availability

The Epson SureColor T3000, T5000 and T7000 will be available in the fall of 2012 through authorized Epson Professional Imaging resellers for a list price of $2,995, $3,995 and $4,995 respectively. The SureColor T-Series printers offer a standard Epson Preferred(SM) Limited Warranty, a one-year program that includes toll-free advanced telephone access Monday through Friday and usually next business-day on-site service in the unlikely event of any hardware failure. Epson Preferred( )Plus extended service plans are available to provide coverage for up to two additional years. For additional information, visit www.proimaging.epson.com.

About Epson

Epson is a global imaging and innovation leader whose product lineup ranges from inkjet printers and 3LCD projectors to sensors and other microdevices. Dedicated to exceeding the vision of its customers worldwide, Epson delivers customer value based on compact, energy-saving, and high-precision technologies in markets spanning enterprise and the home to commerce and industry. Led by the Japan-based Seiko Epson Corporation, the Epson Group comprises more than 75,000 employees in 97 companies around the world, and is proud of its ongoing contributions to the global environment and the communities in which it operates. To learn more about Epson, please visit http://global.epson.com.

You may also connect with Epson America on Facebook (http://facebook.com/EpsonAmerica), Twitter (https://twitter.com/EpsonAmerica and https://twitter.com/EpsonEducation) and YouTube (http://youtube.com/EpsonTV).

(1) Single page print speed is based on print engine speed only; multi-page print speed is based on printing and cutting time for a 10-page 34" W x 22" L sized drawing (the T3000 is slightly slower). Total throughput time depends on workstation configuration, file size, print resolution, ink coverage, networking, etc.

Note: Epson, Epson UltraChrome, MicroPiezo, SureColor, and TFP are registered trademarks and Epson Exceed Your Vision is a registered logomark of Seiko Epson Corporation. Epson Preferred is a servicemark of Epson America, Inc. All other product brand names are trademarks and/or registered trademarks of their respective companies. Epson disclaims any and all rights in these marks.

CONTACT: Duane Brozek, Epson America, Inc., +1-562-290-5683, Duane_Brozek@ea.epson.com, or Patrick Gevas, Walt Company, +1-408-369-7200, ext. 1051, pgevas@walt.com