Product News: Sensors Monitors & Transducers
IR Vision Sensor is immune to effects of ambient light.
Press Release Summary: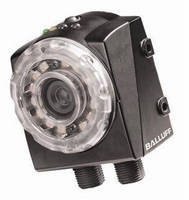 May 28, 2013 - With built-in IR lighting and integrated daylight filter, BVS eliminates problems associated with changing ambient lighting conditions during inspection as well as barcode and text reading processes and eliminates employee and technician discomfort. Sensor's light, certified for CE (EN 62471:2008), is invisible to human eye and thus removes intrusive flickering. With fixed integrated lighting, optics, and filter, design facilitates installation.
Original Press Release
New Infrared Vision Sensor from Balluff
Press release date: May 16, 2013
Florence, KY: Inspection, bar code and text reading processes for vision sensors can be significantly impaired by changing ambient lighting conditions. Simultaneously, employees and technicians are often bothered by the pulsing red light of normal vision sensors. Balluff's new BVS vision sensor with built-in infrared lighting and integrated daylight filter eliminates both of these problems.
By using infrared light and the BVS sensor's integrated daylight filter, visible ambient light cannot affect image quality or stability of an inspection, greatly increasing inspection and process reliability. The BVS sensor's light is also invisible to the human eye, removing intrusive flickering to the operator, helping prevent the need for shielding or desire to tamper with it to minimize the lights effects.
Features of Balluff's infrared vision sensor:
• 10% higher light intensity than comparable red light sensors
• Integrated daylight filter for increased process reliability
• Invisible light does not bother employees
• Safe for the eyes, certified for CE (EN 62471:2008)
• Simple to install with fixed integrated lighting, optics, and filter
Balluff offers a comprehensive line of vision sensing products, including: the BVS standard vision sensor (PC configurable using Windows compatible software and multiple tools per job), the BVS advanced vision sensor (with 360°geometric pattern match tool with configurable boolean logic outputs), the BVS identification sensor (identifies 1D barcodes and 2D data matrix codes to 0.10 mm module resolution) and a large variety of lighting and accessory options.
Learn more and watch our short video on Balluff's Infrared Vision Sensor.
About Balluff:
Balluff Inc., the U.S. subsidiary of Balluff GmbH, Neuhausen, Germany, is a leading manufacturer of a wide range of inductive, photoelectric, vision, capacitive and magnetic sensors as well as linear position transducers, RFID systems, and networking products.  Balluff products for OEM and factory floor solutions are used to control, regulate, automate, assemble, position, and monitor manufacturing, assembly, and packaging sequences for industries including: metalworking, automotive, plastics, material handling, wood processing, aerospace, alternative energy, medical, electrical, and electronics.
Direct reader service inquiries to: Kelly Panko, Balluff Inc, 8125 Holton Drive, Florence, KY, Phone 1-800-543-8390, or
www.balluff.com
In Canada only, contact Norman J. Clarke, President, Balluff Canada, 2840 Argentia Road, Unit # 2, Mississauga, ON  L5N 8G4, Phone 1-800-927-9654 or Tel: 905-816-1494, 905-816-1411, E-mail:
balluff.canada@balluff.ca