Product News: Computer Hardware & Peripherals
IP64 Touchscreen Panel PCs have light, fanless design.
Press Release Summary: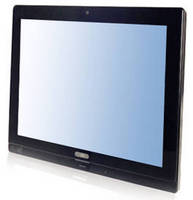 December 20, 2012 - As 15 in. (4:3) panel PC with 1,024 x 768 max resolution and 700:1 contrast ratio, AFL2-15A-H61 supports 2nd Generation Intel® Core™ i7/i5/i3/Celeron and Pentium processors, two 204-pin DDR3 SO-DIMM slots (16 GB max), and 2.5 in. SATA 3 Gbps HDD. CF Type II Socket is also standard, complimented by diverse I/O, connectivity, and expansion interfaces. Wi-Fi and integrated 1.3 MP webcam are also standard. With same features, AFL2-W15B-H61 has 15.6 in. (16:9) LCD with 1,366 x 768 resolution.
Broadax Systems, Inc. - City Of Industry, CA
Original Press Release
Broadax Systems, Inc. Introduces the Two Newest Touch Screen Panel PCs, the AFL2-15A-H61 and AFL2-W15B-H61
Press release date: December 13, 2012
City of Industry, California

Broadax Systems Inc., a leading touch screen Panel PC supplier, is proud to announce two new IP64 light fan-less items to its line of Touch Screen Panel PCs; the AFL2-15A-H61 and AFL2-W15B-H61. The Light fan-less design allows a smart fan to operate above a default temperature setting allowing reliability, efficiency and low noise.

The AFL2-15A-H61 is a 15" (4:3) Panel PC with a maximum resolution of 1024x768 and 700:1 contrast ratio. It supports Intel's 2nd Generation Intel Core i7/i5/i3/Celeron and Pentium Processors. Two 204-pin DDR3 SO-DIMM slots make a maximum of 16GB possible. As for storage, the AFL2-15A-H61 supports a 2.5"SATA 3Gb/s HDD and also an integrated CF Type II Socket.

As for connectivity, the AFL2-15A-H61 has three USB 2.0 and two USB 3.0 as well as a mini USB 2.0 port in the front and SD Card slot. There are two RS-232 DB-9 connectors and one RS-422/485 RJ-45 connector. A Lineout and Mic-in is standard on the AFL2-15A-H61 as well as VGA Port and HDMI port. As for the expansion interface, the AFL2-15A-H61 has two PCIe x1 or one PCIe x1 with a mini slot for WiFi or reserved.

The touch screen incorporated in to the AFL2-15A-H61 is a 5-wire resistive type or projected capacitive type. The LCD has an ambient light sensor to automatically adjust and also an infrared remote control. Integrated 1.3 megapixel web cam and 802.11b/g/n WiFi is standard.

The AFL2-W15B-H61 shares all the same features as the AFL2-15A-H61, except that it has a 15.6" (16:9) LCD with a resolution of 1366x768. The dimensions for the AFL2-15A-H61 is 363.2mm(W) x 305.1mm(H) x 58.8mm(D) and the AFL2-W15B-H61 is 399.4mm (W) x 2741.2mm(H) x 58.8mm(D). Both the AFL2-15A-H61 and AFL2-W15B-H61 are powered by either a 9~36V DC Jack or 9~36V Terminal Block. Also available in two other sizes with the same features are the AFL2-17A-H61, which is the 17" version and the AFL2-W19A-H61 a 19" version.

About Broadax Systems, Inc.
Broadax Systems, Inc. focuses on its primary mission to provide state of the art computer systems for mobile and industrial computing needs. Broadax Systems, inc. (BSI) offers a broad range of high-end computing systems in rugged portable computer, rugged notebook, industrial rack mount computer, all-in-one panel PC and low power consumption embedded computer that are designed for business, research, engineering, industrial aerospace and military specifications.

For more information, please contact us at (626) 964-2600 or Info@bsicomputer.com