Product News: Computer Hardware & Peripherals
IoT Gateway leverages Intel Quark SoC X1000 series.
Press Release Summary: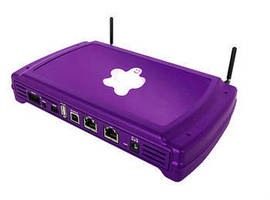 July 18, 2014 - Adopting single-core 32 nm Intel® Quark™ SoC X1000, Portwell PI-81A0 integrates such features as dual 10/100 Fast Ethernet, one USB 2.0 Host port, one USB 2.0 Device port, and 8-channel ADC input interface. There is also 512 KB on-chip flash memory, SRAM, and integrated DDR3 memory controller (support up to 2G@800MTs) as well as optional WiFi or wireless module. Wind River OS system and McAfee security software solutions are also included, and customization is available.
Original Press Release
Portwell Announces PI-81A0 IoT Gateway based on Intel Quark SoC X1000 Series
Press release date: July 15, 2014
FREMONT, CALIF. — Portwell, a premier member of the Intel® IoT Solutions Alliance (ISA), announced the Portwell PI-81A0 IoT gateway based on the new Intel® Quark™ SoC X1000 series as part of the Intel® Gateway Solutions for the Internet of Things (IoT).

Portwell brings many years of embedded computing expertise in the industrial automation, network security and medical equipment markets for an extensive variety of Intelligent Gateway applications. In addition to this version of the Intel® Quark™ SoC X1000 series based solutions, Portwell also plans to offer other Intel® architecture based Intelligent Gateways, many will be packaged with Wind River® Intelligent Device Platform (IDP) and McAfee® Security stack.

The Portwell PI-81A0 adopts the single-core 32nm Intel® Quark™ SoC X1000. The PI-81A0 IoT gateway is designed with several highly-integrated features, including dual 10/100 Fast Ethernet, one USB 2.0 Host port, one USB 2.0 Device port, and 8-channel analog-to-digital convertor input interface. In addition, it features 512-kilobytes of on-chip flash memory, SRAM and an integrated DDR3 memory controller (support up to 2G@800MTs), and an optional WiFi or Wireless module.

The PI-81A0 includes Wind River operating system and McAfee security software solutions.  Portwell also provides speedy customization support and service for volume OEMs, including hardware design, mechanical design, complete system integration and manufacturing.

Product details: http://www.portwell.com/products/detail.asp?CUSTCHAR1=PI-81A0

Product availability: In addition to American Portwell Technology, Inc., the Portwell PI-81A0 IoT gateway is also available through Arrow Electronics, Inc. and Avnet, Inc.

About American Portwell Technology
American Portwell Technology, Inc., is a world-leading innovator in the embedded computing market and a Premier member of the Intel® IoT Solutions Alliance. American Portwell Technology designs, manufactures and markets a complete range of PICMG computer boards, embedded computer boards and systems, rackmount systems and network appliances for both OEMs and ODMs. American Portwell is an ISO 9001:2008, ISO 13485:2003 and ISO 14001:2004 certified company. The company is located in Fremont, California. For more information about American Portwell's extensive turnkey solutions and private-label branding service, call 1-877-APT-8899, email info@portwell.com or visit us at http://www.portwell.com.

Intel and Intel Quark are registered trademarks of Intel Corporation in the United States and other countries.

All products and company names referred to herein may be trademarks or registered trademarks of their respective companies or mark holders.

Product Contact:
Scott Chen
Product Manager
American Portwell Technology, Inc.
510-403-3346
scottc@portwell.com

Media Contact:
Susan Wei
Marketing Executive
American Portwell Technology, Inc.
510-403-3354
susanw@portwell.com