Ionizing Air Blower is effective at distances to 6.5 ft.
Press Release Summary: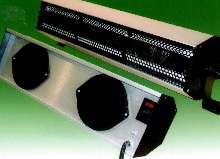 July 10, 2003 - Shockless Model 935 is comprised of one ionization head with integrated fan system that blows ionized air onto target substrate. Suited for various industrial applications, product incorporates removeable front grill, air filter housing, and user's choice of filter medium. Particular applications include film winding, vibratory bowl feeders, and injection moulding processes.
Meech Static Eliminators USA Inc. - Norton, OH
Original Press Release
New Ionizing Blower Effective at Long Distance
Press release date: May 15, 2003
Meech Static Eliminators' new shockless Model 935 Blower provides effective ionization at distances of up to 6.5ft over a large area and is appropriate for a wide range of industrial applications.

The Model 935 marks a major advancement over its predecessor, the 930. The 935 comprises an ionization head with integrated fan system blowing a high volume of ionized air onto the target substrate. Powerful 915 bars ensure very fast decay times.

Additional new features include the incorporation of a front grille, which provides additional safety and is easily removed for maintenance purposes. The 935 also has an air filter housing fitted as standard. The selection of the filter medium is offered as a customer-specified option, enabling the unit to be configured for maximum effectiveness for each particular situation.

The 935 will be particularly beneficial in manufacturing applications such as film winding, where static can cause dust contamination of the film, vibratory bowl feeders, where small statically charged components can force each other out of the feeder, and injection moulding processes where lightweight mouldings can stick to the face of the tool due to the static charge.

Meech has specialized in providing industrial electrostatic solutions for over 40 years. This wealth of experience enables the company to continue to develop products to match the rapidly changing needs of the market. Meech products are currently in use in a wide range of industries ranging from packaging to contact lens manufacture. Meech's extensive product range is supported by an excellent client-service infrastructure, provided by Meech Distributors throughout the world.

Meech was the first specialist manufacturer of static elimination equipment worldwide to be approved as an ISO 9002 registered company.