Product News: Optics & Photonics
Infrared Scanning Port offers large field of view.
Press Release Summary: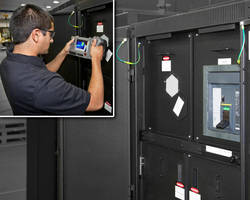 July 5, 2012 - Cyberex® IR Port integrates into data center equipment for visual monitoring of power connections and terminations, enabling early detection and repair of degeneration and other damage that could cause dropped loads. With hexagonal portal featuring 4 in. viewing aperture diameter and expanded viewing aperture diameter of 12.6 sq in., port features angle of view made possible by impact-resistant polymer construction. Design helps port maintain stable transmission rate in various conditions.
Thomas & Betts Power Solutions - Richmond, VA
Original Press Release
Cyberex® IR Port Features Larger Field of View for Infrared Scanning
Press release date: June 21, 2012
Thomas & Betts Power Solutions' New Product Improves Data Center Equipment Monitoring RICHMOND, Va. - Thomas & Betts Power Solutions has improved infrared scanning for data center equipment with the new Cyberex® IR Port, a hexagonal portal with a four-inch viewing aperture diameter. The most common infrared scanning portals currently have a viewing area of only 5.7 square inches, but the Cyberex® IR Port's expanded viewing aperture diameter is 12.6 square inches, enabling fewer ports to be installed in the equipment. The wider angle of view that Cyberex® IR Port provides is made possible by the portal's polymer construction. The polymer material provides greater structural integrity for a larger portal size than what transparent materials, such as quartz and cadmium fluoride, can provide. "We found that crystal-based technology does not meet the longevity requirements of data centers," said Samir Trivedi, senior product manager for Thomas & Betts Power Solutions. "Also, with existing transparent technology, light and infrared transmissions degrade over time. Readings might vary because of the portal material, and not the connection being scanned. We were concerned that this would contribute to downtime rather than reduce it." Thomas & Betts has many years of experience in developing plastic and polymer products, which was applied to developing a more impact-resistant design than existing infrared portal assemblies and stronger than crystal materials. Its design also enables it to maintain a stable transmission rate in a variety of conditions over its expected service life in data center applications. Infrared scanning detects increases in heat that are generated by unbalanced loads, harmonics in neutral connections, overloaded systems, loose or corroded connections due to vibration or improper torque, insulation failure, wiring errors and unspecified components. Early detection of these conditions can prevent dropped loads that cripple data center operations. Scanning is noninvasive, which enables technicians to avoid physical contact with the equipment during inspection. The Cyberex® IR Port is integrated into data center equipment for visual monitoring of power connections and terminations, which enables early detection and repair of degeneration and other damage that could cause dropped loads. Its integration with the equipment eliminates the need to shut down for inspection. It also eliminates the need to remove panels, which enhances workplace safety by significantly reducing the risk of arc flash incidents, as well as reducing the time needed to conduct inspections. Thomas & Betts Power Solutions also eliminates the biggest challenge with IR ports: determining where to install the port. The company's engineering team will integrate the Cyberex® IR Port into the original equipment manufacturer's sheet metal design as a value-added service, ensuring that the scan area includes all the relevant connections. The Cyberex® IR Port is made to order, which facilitates the inclusion of custom specifications. Drawings of the Cyberex® IR Port are available in 3D model files that can be incorporated into the engineer's design, enabling the portals to be positioned accordingly. Thomas & Betts Power Solutions also provides aftermarket field service retrofitting, if needed. The Cyberex® IR Port also includes drawings and information about critical connections behind the portal, to use as reference for scanning. Calibration test portals also are available to assist with calibrating the camera for the correct setting. The design and operation of the Cyberex® IR Port are supported by recommendations from the American National Standards Institute (ANSI) and the InterNational Electrical Testing Association (NETA), and are compliant with NFPA 70E. For more information about Cyberex® IR Port from Thomas & Betts Power Solutions, visit
www.tnbpowersolutions.com/?q=node/433
or call (800) 238-5000. Thomas & Betts Corporation is a global leader in the design, manufacture and marketing of essential components used to manage the connection, distribution, transmission and reliability of electrical power in industrial, construction and utility applications. With a portfolio of more than 200,000 products marketed under more than 45 premium brand names, Thomas & Betts products are found wherever electricity is used. With headquarters in Memphis, Tenn., Thomas & Betts reported revenues of $2.3 billion and had approximately 9.400 employees in 2011. For more information, please visit
www.tnb.com
.