Product News: Test & Measuring Instruments
Infrared Pyrometers measure temperature range down to 482°F.
Press Release Summary: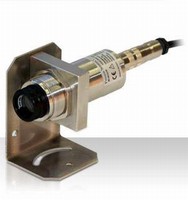 April 29, 2008 - Utilizing short wavelength that minimizes effects due to emissivity changes, Sirius Series pyrometers have adjustable focus and high resolution field of view, providing small spot sizes. Units offer 4-20 mA analog and RS232 or RS485 digital outputs, as well as feature PSCWin software that displays real-time graphs. Sirius SS09 with spectral range of .67-1.1 µm has temperature range of 550-1,800°C, while Model SI16 with spectral response of 1.45-1.8 µm measures temperature from 250-1,800°C.
Process Sensors Corp. - Franklin Lakes, NJ
Original Press Release
Introducing the New Sirius Series of Self-Contained, Easy-to-Install Infrared Pyrometers
Press release date: April 23, 2008
To meet the growing demand for small and easy-to-install sensors, Process Sensors Corporation introduces the Sirius Series. This new line of laser-aiming, precise, highly accurate, stainless steel infrared pyrometers measures in the mid-to-high temperature range down to 482°F. The Sirius Series utilize a short wavelength which minimizes the effects due to emissivity changes. They feature fast response, adjustable focus and high resolution field of view; providing small spot sizes. The Sirius SS09 with a spectral range of .67 to 1.1µm has a temperature range of 550 to 1800°C. Model SI16 with a spectral response of 1.45 to 1.8µm measures temperatures from 250 to 1800°C. Sirius pyrometers offer 4-20 mA analog and RS232 or RS485 digital outputs and the customer can select from three versions of optics depending on the focus distance required. Free PSCWin Software provides setting of all pyrometer parameters and displays real time graphs. Typical applications for the Sirius Series include induction heating, steel, glass, semiconductor, heat treating, furnaces, ovens, hot material/aggregate on conveyors, vacuum melting, composites, ceramics, etc. For more information contact Scott Nagle or Korhan Gazi Process Sensors Corporation, 787 Susquehanna Avenue, Franklin Lakes, N.J. 07417. (201) 485-8772. IRtemp@processsensors.com. Website:
www.ProcessSensorsIR.com
URL:
www.ProcessSensorsIR.com
/news_Sirius.html