Product News: Sensors Monitors & Transducers
Infrared CO2 Sensor targets HVAC applications.
Press Release Summary: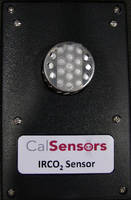 February 12, 2013 - Employing non-dispersive IR technologies, Model IRCO2 meets requirements of Demand Controlled Ventilation systems. Unit utilizes 2-channel detector and pulsed emitter with burst mode that only energizes emitter 188 ms out of every 30 sec measurement cycle, minimizing power consumption. Generating signal passively by measuring absorption of IR light through gas, sensor eliminates degradation concerns. IRCO2 delivers highest sensitivity in 4.26 micron wavelength region and achieves 25 ppm accuracy.
Original Press Release
New Co2 Sensor for HVAC Applications Combines Superior Sensitivity with Reduced Cost & Power Consumption
Press release date: February 5, 2013
Innovative new technology is up to twice as sensitive as competing technology
SANTA ROSA, CA – Cal Sensors (www.calsensors.com) announces the global launch of the IRCO2, an infrared CO2 sensor for HVAC applications. Designed to meet the challenging accuracy and reliability requirements of Demand Controlled Ventilation systems (DCVs), the IRCO2 combines superior sensitivity and reliability with lower costs and power consumption.
A good demand control ventilation system featuring CO2 sensors can significantly reduce energy costs, enhance security systems and increase worker's productivity.  CO2 concentrations are an excellent indictor of human occupancy levels, providing an effective way to reduce energy costs by tying the control of heating, cooling, ventilation and lighting systems to the level of CO2 in a room.  Since a very high concentration of CO2 is harmful and higher levels of CO2 are known to cause drowsiness, regulating CO2 content within a building can also support better health and higher productivity.
Cal Sensors' IRCO2 sensor applies the latest in non-dispersive infrared (NDIR) technologies.  The optical path consists of a state-of-the-art emitter and detector that optimize the signal to noise performance while minimizing costs. Unlike traditional CO2 sensors that produce a signal by reacting with the gas, thus degrading over time, NDIR sensors generate a signal passively, by measuring the absorption of infrared light through the gas.  Consequently, the infrared system eliminates degradation concerns, reduces maintenance and provides accurate measurements more reliably.
Cost savings are achieved via an innovative highly-efficient detector design. Modern conventional sensors achieve measurement consistency and reliability by including two detectors in the measurement path.  The first detector measures the CO2 content and the second detector serves as a reference.  The signals from both detectors are compared real-time and provide the means to compensate for changes in the measurement path or the environment, such as dust or changes in temperature.  Cal Sensors' IRCO2 uses a two channel detector, thus eliminates the extra detector.  This design optimizes measurement consistency and reliability, while minimizing manufacturing and maintenance costs.
The IRCO2 further reduces costs and power consumption by employing the latest pulsed emitter technology.  The emitter features a patented burst mode that only energizes the emitter 188 ms out of every 30 second measurement cycle.  Traditional infrared emitters, such as a miniature vacuum filament lamps, are slow to warm up and need time to stabilize.  Subsequently, although a measurement is only required every 30 seconds, conventional emitters often have to remain on 24/7 to achieve the required measurement stability.  Not only does it waste energy, but it also may cause degradation in the measurement by heating up the sensor.  The IRCO2 eliminates these extra cost and power consumption concerns.
In addition, the IRCO2 delivers its' highest sensitivity in the 4.26 micron wavelength region, where CO2 gas is absorbed.  The detector material offers a very fast response with high signal to noise performance, providing up to twice the sensitivity of competing CO2 solutions. Combined with an emitter that has an almost instantaneous "on" state and a peak optical output near the CO2 absorption band, the IRCO2 sensor offers low power consumption with an accuracy of 25 parts per million (ppm).  Lastly, the IRCO2 sensor applies surface mount technology to optimize manufacturing efficiencies and allowing automated assembly to achieve a price of $125 each at volumes greater than 10,000 units.
Cal Sensors can support prototyping to high volume manufacturing requests with lead times depending on quantities desired.
The IRCO2 was first introduced at booth 2039 of the SPIE-sponsored Photonics West exhibit held February 2-7, 2013 in San Francisco, California.
Cal Sensors Contact Information
For additional information or engineering assistance:
In North America, contact Cal Sensor's Sales Department, 5460 Skylane Blvd., Santa Rosa, CA 95403, USA.  Phone:  +1 (707) 303-3837.  FAX:  +1 (707) 545-5113.  E-mail:  info@calsensors.com Web: 
www.calsensors.com
. 
Cal Sensors also works with distributors in Austria, Belgium, China, Denmark, Finland, France, Germany, Italy, Japan, Korea, the Netherlands, Norway, Sweden, and the United Kingdom. For contact information – please visit
www.calsensors.com
/distributors.htm.
About Cal Sensors
Cal Sensors, an ITW company, has been a leading manufacturer of standard and customized photoconductive (PbS and PbSe) infrared detectors, arrays, and broadband emitters for over 20 years.
Cal Sensors detectors provide superior sensitivity over the 1-5.5 micron wavelengths. Detector configurations include single element, multi-channel, and arrays. Detector technologies include features such as optional spectral filters, optical condensers, thermoelectric coolers, temperature sensors and integrated drive electronics.
Cal Sensors emitters support steady-state or high-pulse rates over the visible to mid-infrared spectrums.  Low cost, with high emissivity, reliability and lifetime, Cal Sensors emitters are designed to optimize performance in infrared detection systems.
Manufactured and packaged in Santa Rosa, California and distributed worldwide, Cal Sensors products are offered in standard or custom packages. Common applications include: imaging, spectroscopy, medical, automotive emissions, gas and moisture analysis, temperature measurement, flame detection and combustion control.
For additional information, please visit
www.calsensors.com
.