Product News: Fluid & Gas Flow Equipment
Inert Isolation Valves feature particle-tolerant soft seat.
Press Release Summary: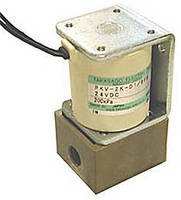 June 21, 2012 - Available with 4 or 6 mm orifice, Model PKV-R/K Valves are constructed with PPS or PEEK molded body, PTFE isolation diaphragm, and FPM valve seat seal. Units come in 2-way and 3-way models with power consumption of 6 W and 10 W, respectively. Insulation Resistance is 50 MW at 500 Vdc and dielectric strength is 1,500 Vac/1 min. Rated at 12 or 24 Vdc, valves are suitable for control of waste fluid lines on automated chemistry equipment.
Original Press Release
New Inert Isolation Valves Economical Alternative for Automated Chemistry Equipment, Clinical, and Biotech Analyzers
Press release date: June 18, 2012
Model PKV-R/K PPS & PEEK Molded Inert Isolation Valves Feature Molded Design, Particle-Tolerant Soft Valve Seat Design Hudson, MA-Clark Solutions introduces its Model PKV-R/K PPS & PEEK Molded Two-way and Three-way Inert Isolation Valves. Featuring a particle-tolerant soft valve seat seal design, these valves are particularly suitable for control of waste fluid lines on automated chemistry equipment such as analytical, clinical and biotechnology analyzers. Available with 4 or 6 mm orifice size, they are also well suited to a large variety of high purity applications in semiconductor, pharmaceutical and other industries. The valve body on Model PKV-R/K PPS & PEEK Molded Inert Isolation Valves is molded of PPS or PEEK. Other standard wetted materials are a PTFE isolation diaphragm and FPM valve seat seal. SPECIFICATIONS
Rated Voltage- 12Vdc or 24Vdc
Min. Operating Voltage- 90% of rated voltage
Drop Out Voltage- 10% of rated voltage
Power Consumption -
2-W:6 Watts
3-W: 10 Watts
Operating Duty - continuous
Coil Temp. Rise - Max 55°C from room temp.
Solenoid Housing - SPS (Syndiotactic Polystyrene) encapsulated
Orifice Diameter - 4 or 6 mm
Operating Pressure-
2-W IN: -675mmHg to 2bar(29psi)
2-W OUT: 0 to 0.5 bar (7.25 psi)
3-W NO/NC: -0 to 0.5bar(7.25psi)
3-W COM:-675mmHg to 1bar(14.5psi)
Media Temperature Range - 0-60°C (140°F)
Ambient Temperature Range - 0-40°C (104°F)
Insulation Class - Class B
Insulation Resistance - min 50 Mohm at 500 Vdc
Dielectric Strength - 1500 Vac/1 minute
Port Connection - 1/8-27 or1/4-18 NPT
Valve Body Material - PPS or PEEK
Isolating Diaphragm Material - PTFE
Valve Seat Seal Material - FPM or Perfluor
3-W Valve Stem Material - PCTFE Clark Solutions has a fifty-year history of providing unique solutions to the measurement, control, and monitoring of flow, energy, pressure, force, and level in liquids and gases. Located in Hudson, Massachusetts, the company offers inert isolation valves, solenoid operated valves, valve actuators, pinch valves, manifold valves, ball valves, globe valves, butterfly valves, needle valves, and miniature and subminiature valves. The company's instrumentation products include devices to record, monitor, and control energy, flow, velocity, pressure, temperature, humidity, level, gas concentration, and other properties. Clark Solutions also provides a wide range of pumps for liquids, gases, and air, including diaphragm pumps, piston pumps, rotary vane pumps, gear pumps, peristaltic pumps, impeller pumps, centrifugal pumps, and bellows pumps. For more information, contact Clark Solutions, 10 Brent Drive, Hudson, MA01749, Tel. 978-568-3400, Fax 978-568-0060, email sales@clarksol.com, or visit our web site at http://www.clarksol.com. Product URL: http://clarksol.com/html/prodspecsPKV_RKValve.cfm