Product News: Computer Hardware & Peripherals
Industrial Touchscreen Computers run on x86-64 platform.
Press Release Summary: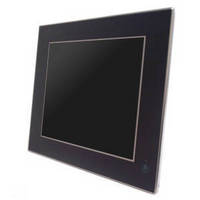 May 15, 2012 - Powered by Intel Atom embedded processor, Industrial Touchscreen Computers combine video accelerators, graphics, display, memory controller, and Windows® Embedded OS for HMI applications. Intel's 64-bit architecture maximizes instruction level parallelism through speculation, predication, large register files, register stack, and advanced branch architecture. With 64-bit memory addressability, computers meet requirements of MES, SCADA, and industrial control systems.
American Industrial Systems, Inc - Irvine, CA
Original Press Release
AIS Expands Its Industrial Touchscreen Computers to Run on x86-64 Platform and Windows Embedded for HMI Applications
Press release date: May 3, 2012
The x86-64 Architecture Provides 64-bit Register Allowing Programmers to conveniently Work with Larger Data Sets NEWS HIGHLIGHTS
o The high performance Intel Atom embedded processors along with a variety of standard interfaces and peripheral busses provide the flexibility needed to support diverse industrial automation environments.
o The Windows® Embedded powered solutions enable fast, economical deployment of improved human-machine interface (HMI) systems in manufacturing environments. Irvine, California, American Industrial Systems Inc. AIS, is an ISO 9001:2008 certified supplier and manufacturer of rugged touch screen computers powered by highly-integrated Intel Atom embedded processor combines video accelerators, graphics, display, memory controller and windows embedded standard operating system for Human Machine Interface (HMI) applications. The HMI system requirements include increased processing needs and a wide range of network and peripheral interfaces, along with smaller sizes and tighter thermal budgets. The AIS open HMI panel PCs, powered by Intel Atom processor families with highly integrated system-on-a-chip (SoC) that include high performance IA 64 microprocessor along with a variety of standard interfaces and peripheral busses, provide the flexibility needed to support diverse industrial automation environments. The IA-64 architecture overcomes the performance limitations of traditional architectures and provides maximum headroom for future development. Intel's innovative 64-bit architecture allows greater instruction level parallelism through speculation, predication, large register files, a register stack, advanced branch architecture, and more. The 64-bit memory addressability meets the increasingly large memory footprint requirements of Manufacturing Execution System (MES), Supervisory Control and Data Acquisition (SCADA) and Industrial Control Systems (ICS) applications. The AIS open touch panel computer pre-installed windows embedded standard operating system provides unprecedented connectivity to other software products and third-party applications for monitoring and controlling automation machines, and process applications. The open HMI touch computer system allows plant-level workers and IT professionals to integrate real-time manufacturing and business information into a common, web-enabled visualization dashboard. The AIS touch HMI system suite includes several solutions that allow for connectivity from the plant floor to corporate business systems. It was designed from the ground up to take maximum advantage of Windows Presentation Foundation (WPF), Microsoft .NET Framework, and Silverlight technology. About American Industrial Systems, Inc.
AIS is a leading global designer and manufacturer of specialty digital signage, industrial panel pc, industrial display and rugged tablet pc solutions for customers in the commercial, industrial, defense and aerospace applications. AIS specialize in designing and manufacturing cost-effective LCD and embedded computing products for the industrial market, as well as ODM/OEM applications worldwide. Whether your vision involves off-the-shelf displays or highly customized embedded computing solutions, AIS can supply the experience, technology, and resources you need to build it right and get you to market first. For additional information on AIS products and services, please call AIS toll-free at (888) 485-6688 or visit: www.aispro.com