Industrial Lubricants are offered for various applications.
Press Release Summary: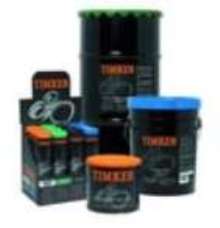 November 18, 2004 - Ultra-high speed spindle grease is suited for bearings in machine tools that experience high speeds and extreme temperatures. Semi-synthetic food safe grease protects against hot and cold temperatures, moderate-high speeds, medium loads, and incidental food contact. Synthetic industrial grease is intended for extreme temperatures, severe loads, corrosive and slow-moderate speed environments. Multi-use lithium grease is suited for moderate speeds, temperature, and water, and light-moderate loads.
The Timken Company - North Canton, OH
Original Press Release
Timken Expands Line of Industrial Lubricants
Press release date: November 15, 2004
CANTON, Ohio, Nov. 15 - Timken has announced the expansion of its line of industrial lubricants to include ultra-high speed spindle grease, food safe grease, synthetic industrial grease and multi-use lithium grease. In addition to protecting bearings from heat, wear and corrosion, three of these specially formulated lubricants offer synthetic base oil technology. This helps promote longer overall grease and bearing life, as well as a wider operating temperature range compared to conventional greases. In addition to the synthetic greases, Timken multi-use grease rounds out the offering as an economical solution for less demanding applications. "Bearing life ratings have increased throughout the years, making the lubricant a limiting factor toward total bearing life," said Dave Pierman, product manager -- lubricants/lubricant delivery systems. "Increasing the lubricant life through synthetic technology creates a total product package that is more commensurate with today's expected bearing life." Proper lubrication is essential to successful bearing performance in demanding industrial operations. Improper lubrication can be the cause of nearly 50 percent of all bearing damage. Timken leverages its knowledge of material science and anti-friction bearings, and how these two elements affect overall system performance. Each Timken lubricant is designed to be application- and environment- specific. For example, the ultra-high speed spindle grease is designed for bearings in machine tools for drilling or grinding that experience ultra-high speeds and extreme temperatures. Food safe grease is a semi-synthetic product that is H1 and Canadian Food Inspection Agency (CFIA) certified. It offers the food and pharmaceutical industries protection against hot and cold temperatures, moderate to high speeds, medium loads and incidental food contact. Timken's synthetic industrial grease is intended for use in extreme temperature, severe loads, corrosive and slow- to moderate-speed environments like those found in wind energy main bearings, pulp and paper machines, marine applications or general heavy industry. Multi-use lithium grease is suited to handle moderate speed, temperature and water, and light to moderate loads, such as in pins and bushings, water pumps, track rollers or other general industrial applications. The four new greases are added to the line of five lubricants that were introduced in December 2003. Those included the premium all purpose industrial grease, construction and off-highway grease, ball bearing pillow block grease, high-speed ball bearing grease for electric motors, and mill grease. The entire line of Timken Industrial lubricants is available through Timken authorized distributors in the United States. All Timken lubricants are backed by highly trained customer service and technical support personnel. The Timken Company (NYSE:TKR); (
www.timken.com/
) is a leading global manufacturer of highly engineered bearings and alloy steels and a provider of related products and services with operations in 27 countries. A Fortune 500 company, Timken recorded 2003 sales of $3.8 billion and employed approximately 26,000 at year-end. For Additional Information: Craig Gifford, Communications Representative, (330) 471-3910 or visit
www.timken.com/
media