Product News: Fasteners & Hardware
Indexable Inserts are effective on high-temperature alloys.
Press Release Summary: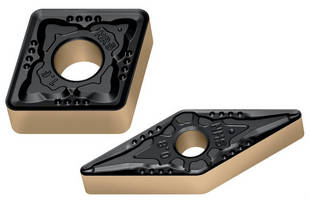 October 5, 2011 - Walter Valenite ISO indexable inserts are designed for machining nickel, cobalt, and iron-based, high-temperature alloys. NRS geometry, useful for roughing operations, and NMS geometry, targeting medium machining and semi-finishing operations, are designed for turning operations and feature cutting edge design that minimizes effect of wear. Also, PVD-aluminum oxide coating (grades WSM10 and WSM20) provides heat resistance and promotes accelerated cutting.
Original Press Release
New Walter Valenite Inserts from Walter USA, LLC
Press release date: September 15, 2011
New Walter Valenite inserts from Walter USA, LLC optimize machining of high temp alloys Walter Valenite's new turning inserts for roughing, medium machining and semi-finishing operations provide the geometry and toughness to boost machining productivity.

Waukesha, WI - Walter USA, LLC has introduced two new Walter Valenite ISO indexable inserts designed for machining nickel, cobalt and iron-based high temperature alloys such as Inconel® 718 and Waspaloy®, commonly used in the aerospace, power generation and chemical industries. The innovative geometries are designed for turning operations and feature a new cutting edge design that minimizes the effect of the typical wear mechanisms seen in machining high temperature alloys. The new geometries are combined with a PVD-aluminum oxide coating (grades WSM10 and WSM20) that provides a high level of heat resistance and promotes faster cutting speeds when machining high temperature alloys.

The new NRS geometry is designed for roughing operations while the NMS geometry is targeted at medium machining and semi-finishing. Both feature a sharp cutting edge design which reduces edge build-up and minimizes cutting pressures, along with edge strength and toughness to deter notch formation and chipping. Their geometries promote good chip evacuation, avoiding the often destructive chip impact typical with high-temperature alloy machining.

This superior chip flow and the resulting low cutting pressures, are particularly important in the aerospace industry because the workpieces are often thin-walled and relatively unstable. Thus, too much pressure on the cutting edge can cause these thin walls to deform.

Other typical applications for the NRS/NMS inserts are measuring instruments in the oil and gas industry and, in secondary applications, austenitic stainless steels which are frequently found in the food industry. The roughing and medium machining inserts are available in a variety of shapes appropriate for these operations.

Walter USA, LLC offers an extensive line up of cutting tools for milling, drilling, turning, boring and specialized tooling for unique applications through its competence brands Walter Valenite, Walter Titex and Walter Prototyp. As well as multi-level service programs through its Walter Multiply brand. Headquartered in Waukesha, Wisconsin the company has a strong network of distributors and field engineers across North America. The Walter name is synonymous with productivity, thanks to more than 80 years of developing cutting tools and inserts that set new standards in production. Walter USA, LLC combines over 75 years of U.S.-based tooling production with long-standing traditions of quality and innovation.

Inconel® is a registered trademark of Special Metal Corporation Waspaloy® is a registered trademark of United Technologies Corporation