Hydrocarbon Gas Analyzer uses NIR/IR absorption spectroscopy.
Press Release Summary: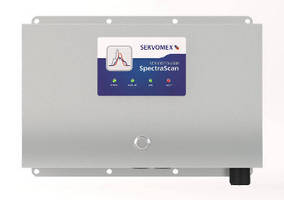 May 14, 2013 - Utilizing Precisive optical bench, SpectraScan provides continuous analysis of light hydrocarbons C1-C5+. Real-time optical analyzer achieves precise separation into constituent components by using Tunable Filter Spectroscopy Analysis Algorithm. Optimized with cross interference modeling, spectral non-linearity compensation, and peak shifting compensation, chemometric algorithm delivers low cross-interference of less than 0.2% and linear response throughout scanning range.
Original Press Release
New SERVOTOUGH SpectraScan Redefines Online Gas Analysis for the HP Industry
Press release date: May 3, 2013
Crowborough, UK, 3 – Servomex, the world leader in gas analysis, has announced a breakthrough in light hydrocarbon gas analysis with the launch of the new SERVOTOUGH SpectraScan.
A real time optical analyser utilising the Precisive field proven optical bench, the SpectraScan offers a breakthrough capability in the continuous analysis of light hydrocarbons C1-C5+. A faster, less complex and more reliable technology than the gas chromatograph techniques traditionally used in light hydrocarbon applications, the SpectraScanis a genuine game-changer in gas analysis.
With an innovative measurement technology using NIR/IR absorption spectroscopy with state of the art spectral scanning coupled with chemometric based data processing,the SpectraScan delivers exceptionally high accuracy, low cross sensitivity and a very fast speed of response. A flow-through cell utilises a patented spectrometer design for a high quality optical measurement, resulting in a high signal-to-noise ratio which givesa highly stable and accurate measurement. No separation columns and valves are required
Hydrocarbon infra-red spectra are broad, with the wavelength of different elements heavily overlapping. The SpectraScan achieves a precise separation into constituent components by utilising an advanced Tunable Filter Spectroscopy Analysis Algorithm. Optimised with cross interference modeling, spectral non-linearity compensation and peak shifting compensation, this breakthrough Chemometric algorithm delivers industry-leading interference compensation with a permanent span calibration, low cross-interference (< 0.2%), high baseline stability and a linear response throughout the scanning range.
Wavelength scanning is achieved by custom designed tunable band-pass filter, with a unique design that enables simultaneous scanning of selected wavelength bands for gases including Methane, Ethane, Propane, iso-Butane, n-Butane, Propylene and Ethylene.
The SpectraScan also delivers a range of auxiliary cost and operating benefits. Manufactured to a robust and reliable design, the instrument's optimised design produces very low zero and span drift, with minimal validation times. A fixed hardware configuration means maintenance costs are low, while the infra-red technique requires no carrier gas and consequently has minimal installation infrastructure requirements.
The SpectraScan is available in two configurations: a 19" rack mounted general purpose unit and a wall mounted safe area version certified to CSA CL1 Div2 and ATEX Zone 2.
"The SpectraScan is nothing less than a leap forward in hydrocarbon gas analysis – the 'next generation' technology for the HP industry and the technology by which other techniques will now be benchmarked," says Chris Cottrell, Managing Director, Servomex.
For more information about the revolutionarySERVOTOUGH SpectraScan, download the white paper at
www.servomex.com/spectrascan
, email
spectrascan@servomex.com
or contact the Servomex Americas Business Centre (+1 281 295 5800), Asia Pacific Business Centre (+86 (0)21 6489 7570), European Business Centre (+31 (0) 79 330 1581 / 00800 737866390 / Toll free in France, Holland, Germany, Belgium and the UK),  India Business Centre (+91 22 3934 2700), Latin American Business Centre (+55 11 5188 8166) and Middle East Business Centre (+971 6552 8073).
www.servomex.com
Servomex Group Ltd
An acknowledged innovator in gas analysis technologies for more than 50 years, Servomex is the originator of and world leader in paramagnetic sensing technology and has an exceptional reputation in the development of zirconia, photometric and thick film technologies. The result is high-performance, cost-effective gas analysis, delivered through a portfolio of dependable products ranging from portable gas analysers to complex process solutions.
Servomex has extensive experience of working with multi-national companies across a range of industries including hydrocarbon processing, industrial gas and OEM markets, ensuring our knowledge and expertise closely matches the requirements of our customers.Servomex's commitment to providing a complete industry solution to gas analysis extends across our business, with our Hummingbird Sensing Technology brand delivering our technology to OEM partners and the recently-acquired Delta F Corporation extending our product offering through oxygen and moisture analysis technologies.
Servomex is part of Spectris plc, a leading supplier of instrumentation and controls to global markets.