Hybrid Drive System optimizes tube processing machine efficiency.
Press Release Summary: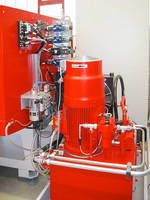 January 23, 2013 - Matched to requirements of corresponding machines, hybrid electric/hydraulic drive system is designed for use in bending and forming machines or manufacturing cells in tube processing. Hydraulic units of system are equipped with constant pumps and driven by servo motor. Consumption volumes are pre-selected or stored via electrical control and submitted precisely via drive motor rotational speed. Control system synchronizes desired speed in relation to required volume.
Original Press Release
"Efficient Machines Need Efficient Drive": Transfluid Offers New Hybrid Drive System for Tube Processing Machines
Press release date: January 20, 2013
Advantages of electrical and hydraulic systems in a newly developed solution combined
Compromises in many areas of everyday life might often be a good way. When developing new technologies they prevent often the best solution. In tube processing this applies especially to the selection of the drive system for bending and forming machines or manufacturing cells. Electric drives are energy efficient, highly accurate and largely independent of external influences. The hydraulic drives have a unique power density and robustness.
No system can to cover both as standard. This gap covers transfluid with a new development. For the best solution, the engineers of the South Westphalian (German) transfluid Maschinenbau GmbH have developed a unique system that combines some advantages of both systems and exclude disadvantages. With these new hybrid drive options, the advanced tube processing technology is brought into best form.
Up to 20% increase in energy efficiency
The hybrid drives are effectively matched to the requirements of the corresponding machines. Hydraulic units of the new system are equipped with constant pumps and are driven by a powerful servo motor. Almost the entire control of the system takes place via the power or rotation speed of the motor. It is very energy efficient. Generally improves the energy efficiency by 15 to 20%, since the power is always given in accordance with the consumer.
Quieter, smaller, more precise
Its advantages shows the technology especially in areas where powerful drives are requiredas well as with several hydraulic cylinders of different sizes and at different speeds. This applies especially for bending processes and axial forming machines. The hybrid drives are not only smaller and much quieter in operation. Also the heating in the process is minimized. The hydraulic unit needs up to 20% less volume of oil and the required performance of the external cooler is correspondingly lower.
Unique for hydraulic drives is the new positioning accuracy due to the hybrid system. Since each consumer is supplied with a specific volume of oil positions (depending on the consumer) can be approached in the 1/10 mm range. Via the electrical control, the consumption volumes are pre-selected or stored and via the rotational speed of the drive motor submitted precise.
Responsible for high precision means is not least the specially designed control system. It provides a synchronization of the desired speed of the consumer in relation to the required volume. To ensure that no excess volume is generated. With the combination of electronics and hydraulics, the new solution of transfluid , thus ensuring improved efficiency and ensures that requirements are met in the best possible terms of drive technology.
trade-shows:
transfluid at the Hannover Messe (April 08-12, 2013): Hall 17 / Stand B 71
transfluid® Maschinenbau GmbH
Since 1988 transfluid continually improved technologies in tube processing to meet customers' demands, offering optimum, tailor-made solutions in machine and plant construction, that are used in the automobile, ship building and furniture industries as well as the construction of railings and conveyor technology. transfluid's product portfolio offers perfect solutions in five different machine categories, that meet all the requirements in tube processing. The Schmallenberg-based company has become a global brand with service offices in Europe and Asia.
www.tube-processing-machines.com