Product News: Chemicals & Chemical Processing
Hot Water Extractors optimize carpet cleaning.
Press Release Summary: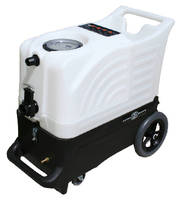 April 3, 2009 - Available in 4 models, Advantage Portable Hot-Water Extractors feature 3-stage vacuum motor that produces 137 in. of water lift. Three out of 4 systems produce 212° at wand tip. All include 13-gallon tank capacity for extended run-times with optional auto-fill/dump capabilities.
Original Press Release
What's the Big Advantage?
Press release date: March 15, 2009
The new Advantage portable hot-water extractors (100, 200, 400, and 1200) from U.S. Products are popular among carpet cleaning operators. Why? Maybe it's because the systems produce 212 degrees (F) at the wand tip (excluding the 1200). Possibly it's because the powerful three-stage vacuum motor produces 137 inches of water lift. Still, it could be because these machines have 13-gallon tank capacity for longer run times with optional auto-fill/dump capabilities. Or, it may be because these are some of the most cost-competitive, high-quality portable extractors available. For more information, visit
www.usproducts.com
, or call toll-free: 800-257-7982. About U.S. Products
U.S. Products has been manufacturing carpet, drapery, upholstery, restoration, and ceiling cleaning equipment for more than 25 years. The company is well known for its innovative internal heating systems that deliver 212 degrees at the wand tip, top-quality components, and solid-state circuitry for precise operation and equipment control. U.S. Products contact information: Address:181 West Aqua Ave., Coeur d' Alene, ID 83815 Phone: (208) 772-0573; Toll-free: (800) 257-7982; Fax: (800) 910-5294; E-mail: info@usproducts.com