Product News: Computer Hardware & Peripherals
HMI Terminals aid integrated automation in discrete manufacturing.
Press Release Summary: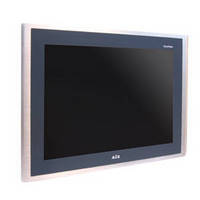 June 26, 2012 - Offering hardware/software flexibility and device management capabilities, customizable HMI terminals enable discrete manufacturing to produce in low volume with high complexity or high volumes of low complexity. Products include 4.3, 7, 10, and 15 in. HMI terminals that offer flexible network solutions to connect automation products to each other, including PLCs, I/O devices, and computers. Communication interfaces and protocols foster plant and machine control system connectivity.
American Industrial Systems, Inc - Irvine, CA
Original Press Release
AIS Introduces HMI Terminals to Facilitate Integrated Automation in Discrete Manufacturing
Press release date: June 11, 2012
Through Avnet Embedded, AIS Offers AIS Open Operator Interface Terminals for Close-to-Machine Operation and Monitoring, to Control and Data Processing Applications
Irvine, Calif. - American Industrial Systems Inc. (AIS), an ISO 9001:2008-certified supplier and manufacturer of open operator interface terminals, announced today a new line of HMI terminals that deliver increased quality, lower costs, higher reliability and open communication interfaces for discrete manufacturing to produce in low volume with very high complexity or high volumes of low complexity. These solutions are available from Avnet Embedded, a division of Avnet Electronics Marketing Americas, a business region of Avnet, Inc. (NYSE: AVT). To find out more, visit http://em.avnet.com/aisgraphicoperatorinterfaceterminals
"Success in the manufacturing industry requires that you produce the right products, in the right quantities, at the right time, with good quality, and at a price the customer is willing to pay, said Nelson Tsay, AIS. "These new high-performance operator interface terminals optimize production and business processes to keep on top of customer demand, increase profit margins, and stand out in a volume marketplace."
By leveraging the latest technologies for advanced control and visualization, AIS provides one trusted platform in building intelligent HMI systems that serve as sustainable and converged industrial solutions. These solutions offer your customers a high degree of hardware and software flexibility, comprehensive device management, more intelligent functionality, and greater compliance with environmental regulations. They can be highly customized, but at the same time offer high degrees of openness, reduced costs, and are available off-the-shelf.
Products include: 4.3", 7", 10" and 15" Human Machine Interface terminals which offer highly flexible network solutions to connect your automation products to each other, including PLCs, I/O devices and computers. The AIS HMI touch panel offers a wide variety of communication interfaces and protocols; effectively connecting your plants and machine control systems.
About American Industrial Systems, Inc. AIS is a leading global designer and manufacturer of specialty digital signage, industrial panel pc, industrial display and rugged tablet pc solutions for customers in the commercial, industrial, defense and aerospace applications. AIS specialize in designing and manufacturing cost-effective LCD and embedded computing products for the industrial market, as well as ODM/OEM applications worldwide. Whether your vision involves off-the-shelf displays or highly customized embedded computing solutions, AIS can supply the experience, technology, and resources you need to build it right and get you to market first. For additional information on AIS products and services, please call AIS toll-free at (888) 485-6688 or visit:
www.aispro.com
.
Contact information: American Industrial Systems, Inc. Alan Wong, 949-681-7461 Alan.wong@aispro.com