Product News: Architectural and Civil Engineering Products
HMI Panels enhance intelligent building automation systems.
Press Release Summary: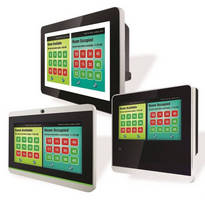 February 14, 2014 - Comprised of Wide Temperature Touch Panel PCs, HMI Operator Interface Terminals, HMI Compact Thin Clients, and HMI PoE Touch Panel PCs, standard and custom HMI panels deliver scalable and flexible solutions for HMI integration and visualization of automation systems for smart buildings. Building control and monitoring solutions, simplifying operator interaction and engagement, help commercial and industrial facility owners and operators manage their BMS, EMS, and BAS more effectively.
American Industrial Systems, Inc - Irvine, CA
Original Press Release
AIS's Scalable & Energy Efficient Human Machine Interface Panels for Intelligent Building Automation Systems in Smart Buildings
Press release date: February 3, 2014
AIS Open and PC-Based HMI and Visualization Systems Offer an Open Flexible Hardware Platform to Manage and Simplify BMS, EMS & BAS Control
IRVINE, CALIFORNIA – Known for their energy efficient, open platform and flexible building control and monitoring solutions, American Industrial Systems, Inc. (AIS), introduces their standard and custom offering of HMI panels for the building automation industry.  AIS open and flexible building control and monitoring solutions are designed for commercial and industrial facilities. By controlling building automation systems and simplifying operator interaction and engagement, AIS HMIs help building owners and operators manage their Building Management Systems (BMS), Energy Management Systems (EMS) and Building Automation Systems (BAS) more cost-effectively.  Building control systems applications suited for AIS HMI building management panels include: chiller control, boiler control, lighting control, HVAC control and access control systems.
In commercial buildings, the BMS is a computer-based control system installed in buildings that controls and monitors the building's mechanical and electrical equipment. An EMS has software and data acquisition hardware components that are used to collect and analyze energy usage at the building or system level, mainly for monitoring decisions only. The BAS consists of stand-alone or networked hardware and embedded software that automatically controls a single building function (mechanical, electrical, or electronic).
AIS's HMI Building Management Panels Solve Energy Challenges for Smart Building Operators
The building automation industry was an early innovator and adopter of the green movement in addressing environmental issues, reducing carbon emissions and energy costs.  Building and facilities operator embrace the need for continued energy management and sustainability.  BAS and BMS data from commercial buildings are new high-value assets and a major focus in managing energy consumption, triggered by rising energy costs, the benefits of proactive system maintenance and the need for remote property monitoring. AIS's scalable and flexible operator interface panels deliver HMI integration and visualization of automation systems for smart buildings. Open platform HMI panels with pre-installed Windows embedded operating system from AIS offer hardware and software functional expansion capabilities with software development kits (SDK) for customer-specific applications. AIS building control management HMI panels and operator interfaces offer many benefits, including:
• Powerful control, monitoring and targeting of energy consumption
• Computerized and efficient maintenance scheduling
• Effective use of maintenance staff and increased productivity
• Reduced maintenance and energy costs
• Remote monitoring and diagnostics of buildings and facilities
AIS's Extensive Portfolio of Open & Rugged HMI Systems for Building Automation Control 
AIS offers a broad range of flexible and versatile HMI panels and operator interface solutions for smart building control and automation systems that deliver the lowest total cost of ownership for building and facilities operators. Easy-to-use interfaces with advanced visualization capabilities and open communications platforms, AIS HMI panels are also rugged and can endure extreme conditions in HVAC environments and applications. The portfolio of HMI, operator interface terminals and touch panel PCs solutions for building control and management from AIS include:
• Wide Temperature Touch Panel PCs feature Intel® Atom™ dual core processor N2800 1.86 GHz, in an industrial-grade LCD flat panel with resistive touch screen technology, and supports an extended temperature range of -20 to 60°C (-4 to 140°F). This selection of industrial and building automation displays are offered in screen sizes 10.4", 15" and 17".
• HMI Operator Interface Terminals are web-based and ARM-based HMI solutions and one of the most versatile operator interface choices for visualization applications. They are ideal for building control applications that need information displayed in dynamic ways to help operators quickly understand machine status and make faster decisions. The displays for intelligent building automation are offered in sizes ranging from 4.3" to 15".
• HMI Compact Thin Clients are compact web-based thin clients for faster, better and lower-cost building and HVAC applications. As standard, AIS HMI Compact Thin Clients for building control are ruggedized, and carry NEMA 12, 4X, 4, IP52, IP54, IP66 ratings and certifications. These smart building HMI displays are offered in 5.7", 10.1" and 15" size screens.
• HMI PoE Touch Panel PCs are fully integrated, utilizing the very latest in Projective Capacitive Touch display (PCT) technology and Power-Over-Ethernet (PoE) capability in industrial-grade LCD panels. As the need for end devices continue to expand for communications, collaboration, security and productivity, the need for PoE capabilities to support these end devices with increased power requirements is essential. These smart, Multi-Touch "Room Scheduling" Panel PCs are offered in 7", 10.1" and 18.5" size screens.
About AIS
Headquartered in Irvine, California, USA, American Industrial Systems, Inc. (AIS) offers in-house electronic, mechanical design, software, manufacturing, production and quality control services. Offering one of the widest ranges of industrial computing products, AIS solutions are available in a multitude of configurations for building automation & control applications. AIS is an ISO 9001:2008 certified supplier and manufacturer of rugged computers and displays. For more information, visit:
www.aispro.com
, email:
sales@aispro.com
or contact: 1-888-485-6688.
Media Relations Contact:
American Industrial Systems, Inc.
Santiago Consunji
Business Development and Marketing Manager
949-681-7468
santiago.consunji@aispro.com