Product News: Computer Hardware & Peripherals
HFT-Optimized Servers accelerate low-latency applications.
Press Release Summary: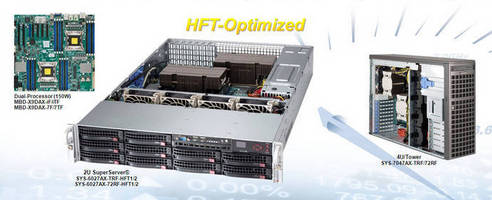 December 10, 2012 - Built on X9DAX series dual-processor (DP) motherboards and SC829BTQ chassis, Hyper-Speed 2U server and 4U/tower platforms deliver performance for HFT applications. Intel® Xeon® E5-2600 series processors (up to 150 W TDP) can be tuned for higher performance and run at peak performance in dense 2U form factor for colocation installations. Adjustable onboard frequencies, voltages, and memory latencies as well as firmware optimizations lower latency.
Super Micro Computer, Inc. - San Jose, CA
Original Press Release
Supermicro® Hyper-Speed Servers Accelerate Low-Latency Applications with up to 30% Performance Gains
Press release date: December 4, 2012
New HFT-Optimized Server Solutions Debut at HFT World, New York

NEW YORK -- Super Micro Computer, Inc. (NASDAQ: SMCI), a global leader in high-performance, high-efficiency server technology and green computing, debuts a new line of ultra high performance "Hyper-Speed" servers this week at High Frequency Trading World, New York. These new 2U and 4U/Tower platforms deliver unparalleled performance for HFT applications by maximizing processing power and precisely tuning hardware and firmware to attain up to 30% lower latency over competitive solutions while still maintaining high reliability as a primary design focus. Built on Supermicro's X9DAX series dual-processor (DP) motherboards and SC829BTQ chassis with best-in-class thermals, Hyper-Speed systems allow the highest performance Intel® Xeon® E5-2600 series processors (up to 150W TDP) to be tuned for even higher performance and run at peak performance in a dense 2U form factor for colocation installations. Systems architecture is designed for maximum airflow and custom heatsinks provide optimal thermal distribution for mission critical reliability. Additional performance tuning features include adjustable onboard frequencies, voltages and memory latencies as well as firmware optimizations to further lower latency.

"Advanced trading firms looking to reduce latency and maximize transaction flow can gain an advantage with the extreme processing power and enterprise-class server optimizations designed into Supermicro's Hyper-Speed systems," said Wally Liaw, Vice President of Sales, International at Supermicro. "Our latest HFT-optimized platforms boost performance of the fastest rated x86 dual processors with board-level control and circuitry enhancements and custom tailored cooling systems for the highest sustained performance. With mission critical transactions on the line, Supermicro Hyper-Speed systems ensure peak performance with maximum reliability for the most demanding computational finance applications."

Supermicro's HFT-optimized Hyper-Speed platforms feature premium pre-installed CPUs and memory. Storage and I/O components are validated with a rigorous burn-in process to ensure maximum performance and reliability on deployment. HFT-optimized Hyper-Speed systems are available in the following 2U rackmount server SKUs:

2U HFT-Optimized Hyper-Speed Server Solutions

SYS-6027AX-TRF-HFT1/HFT2 or SYS-6027AX-72RF-HFT1/HFT2

--  Dual Intel® Xeon® processors E5-2687W ("HFT1") or E5-2643 ("HFT2"); Socket R (LGA 2011)
--  10 Hot-swap 3.5" HDD Bays: SATA ("TRF") or SAS2/SATA ("72RF")
--  8x 8GB DDR3 ECC RDIMM ("HFT1")  or 8x 4GB DDR3 ECC UDIMM ("HFT2")
--  2x (x16) PCI-E 3.0, 3x (x8) PCI-E 3.0 slots and 1x (x4) PCI-E 2.0 (in x8) slot OR 1x (x8) PCI-E 3.0 UIO slot
--  Onboard Storage Controllers
-  ("TRF") Intel® C602 AHCI controller for 2 SATA3 (6Gbps) ports, 4 SATA2 (3Gbps) ports; RAID 0,1,5,10 and Intel® C602 SCU Controller for 4 SATA2 (3Gbps) ports; RAID 0,1,5,10
-  ("72RF") LSI 2208 controller for 8 SAS2 (6Gbps) ports, RAID 0, 1, 5, 6, 10, 50, 60
--  I/O ports: 2 GbE, 7.1 HD audio, 1 Video, 1 COM, 4 USB 3.0, 7 USB 2.0
--  System management: Built-in Server management tool (IPMI 2.0, KVM/media over LAN) with dedicated LAN port
--  1280W Redundant Platinum Level High Efficiency (95%+) Digital Switching Power Supplies

4U/Tower Hyper-Speed servers are also available for applications such as HPC, EDA, Scientific Research and Oil & Gas exploration.

7047AX-TRF / 7047AX-72RF

--  Dual Intel® Xeon® processor E5-2600 series; Socket R (LGA 2011)
--  8 Hot-swap 3.5" HDD Bays: SATA ("TRF") or SAS2/SATA ("72RF")
--  SAS2 support via LSI 2208 ("72RF")
--  16x DIMMs support up to 512GB DDR3 1600MHz reg. ECC memory
--  2x (x16) PCI-E 3.0, 3x (x8) PCI-E 3.0, & 1x (x4) PCI-E 2.0 (in x8) slots or 1x (x8) PCI-E 3.0 UIO slot supporting full-height cards
--  I/O ports: 2 GbE, 7.1 HD audio, 1 Video, 1 COM, 4 USB 3.0, 7 USB 2.0
--  System management: Built-in Server management tool (IPMI 2.0, KVM/media over LAN) with dedicated LAN port
--  1280W Redundant Platinum Level High Efficiency (95%+) Digital Switching Power Supplies

Visit Supermicro at HFT World, December 4-5 at the Three Sixty Degrees, Tribeca Rooftop, New York City. For details on Supermicro's Hyper-Speed solutions, visit www.supermicro.com/Hyper-Speed/

For more information on Supermicro's complete range of high performance, high-efficiency SuperServer and SuperStorage solutions, visit www.supermicro.com.

Follow Supermicro on Facebook and Twitter to receive their latest news and announcements.

About Super Micro Computer, Inc.
Supermicro® (NASDAQ: SMCI), the leading innovator in high-performance, high-efficiency server technology is a premier provider of advanced server Building Block Solutions® for Data Center, Cloud Computing, Enterprise IT, Hadoop/Big Data, HPC and Embedded Systems worldwide. Supermicro is committed to protecting the environment through its "We Keep IT Green®" initiative and provides customers with the most energy-efficient, environmentally-friendly solutions available on the market.

Supermicro, SuperServer and We Keep IT Green are trademarks and/or registered trademarks of Super Micro Computer, Inc.

CONTACT: David Okada of Super Micro Computer, Inc., davido@supermicro.com