Product News: Packaging Products & Equipment
Heat Sealer and Conveyor handles large bag packaged products.
Press Release Summary: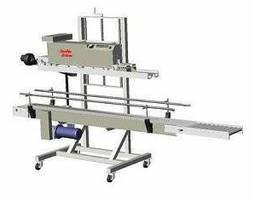 April 12, 2012 - Suited for seal and trim applications in pet food industry, Model SS3525PTHD-SSC710HDRS offers standard seal width of 3/16 in. and variable speed to 600 ipm. System is constructed of stainless steel and anodized aluminum with illuminated on/off switch, sealed bearings, food-grade belting, and E-stop button. Sealing head height and conveyor height are adjustable. Operating from 4-wire single phase 230 V/60 Hz power, system comes equipped with tamperproof, laboratory-quality temperature controls.
Original Press Release
SteelNor Releases the Bag Closing Heat Sealer - SS3525PTHD-SSC710HDRS
Press release date: April 2, 2012
This Sealer and Conveyor SS3525PTHD-SSC710HDRS is designed for Large Bag packaged products used in the pet food industry; these machines work very well with filling and bag/sack placing lines. They are designed to be the best possible solution for Heavy Duty Seal and Trim applications. Machine specifications include;
o Speed Variable to 600 inches per minute
o Laboratory Quality temperature controls variable and tamperproof
o Low cost Sealing bands in Teflon/fiberglass
o Seal width standard at 3/16" but available from 1/8" to 7/16" at no charge
o 4-Wire Single Phase 230 V 60Hz.
The SS3525PTHD-SSC710HDRS features;
o Stainless steel and anodized aluminum construction
o The ability to seal virtually all heat sealable materials
o Illuminated on/off switch
o Sealed bearings
o Emergency stop button
o Trim above seal line
o Trim scrap blower
o Food grade belting
o Product support belts
o Stainless steel frame
o Locking and swivel casters
o Adjustable sealing head height
o Adjustable conveyor height
o High quality DC Gear motor
In addition the SS3525PTHD-SSC710HDRS offers available options including;
o Chilled air cooling for high speed applications
o Chilled water cooling for high speed applications
o Date coding
o Trim scrap chute
o Product counter
o Digital speed indicator
o Process validation
o Left to right feed
o Articulated feet
o Roller staging area on conveyor
About SteelNor
SteelNor Systems designs and manufactures a standard line of equipment and specialty packaging machinery. With over 31 years' experience in the packaging industry, continuous heat sealing is our specialty. SteelNor offers machines both manual and automatic to close bags and those that are used by film converters in the bag/pouch making process as our standard product line. We can provide tailored and special solutions to unique applications, rapidly & reasonably with a common sense approach. Specialty products are our focus.
For more information please contact;
David Steele, President
Telephone: (705) 527-7887
Toll Free Phone: (866) 490-9059
Fax: (705) 527-7817
Email: info@steelnor.com
Website URL:
www.steelnor.com