Product News: Computer Hardware & Peripherals
HDMI A/V Cable Assemblies are covered in crush-resistant armor.
Press Release Summary: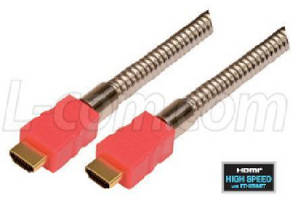 August 17, 2012 - Stocked in 6 lengths, HDMI audio/video (A/V) cables with Ethernet are available in plastic armor with 1,000 psi crush resistance or metal armor with 1,500 psi crush resistance. Products feature 30 µin. gold-plated contacts and double shielding to protect sensitive audio and video signals from interference. Areas of use include those that present potential for exposure to excessive force, such as military, security, and industrial environment applications.
L-Com Global Connectivity - North Andover, MA
Original Press Release
L-com Introduces Armored HDMI Audio/Video Cable Assemblies
Press release date: August 10, 2012
NORTH ANDOVER, MA - L-com, Inc., a designer and manufacturer of wired and wireless connectivity products, has introduced a line of HDMI audio/video cables with Ethernet that have a crush-resistant armor over the cable length. The new cables are available in either plastic armor, with a crush resistance of 1000 PSI (Pounds per Square Inch), or metal armor, with a crush resistance of 1500 PSI. These cables have many applications where they would potentially be exposed to excessive force, such as military, security, and industrial environment applications. The cables feature 30 microinch gold plated contacts and double shielding to protect the sensitive audio and video signals from interference. The cables are stocked in six different lengths and will be available off-the-shelf for same day shipment. "HDMI technology is used in many more applications than just home theater and digital signage," said Steve Smith, Product Manager. "We saw a need for HDMI connectivity in environments where the cables may be crushed or impacted, and often those environments are the type where downtime is not an option. We designed these cables to serve that market and we're happy to provide them off-the-shelf." The new cables will be stocked in L-com's Massachusetts, USA, distribution center for same-day shipment. Specifications, a 2D engineering drawing, and 3D CAD models are all available on L-com's website for free download. For more information about this release, please contact: Dave Fallon, Internet Marketing Strategist 978-682-6936 x1450, newsletters@L-com.com L-com, a global designer and manufacturer of wired and wireless connectivity products, offers a wide range of solutions and unmatched customer service for the electronics and data communications industries. The company's product portfolio includes cable assemblies, connectors, adapters, computer networking components, and custom products, as well as the Hyperlink line of wireless products. Trusted for more than 30 years, L-com, Inc. is headquartered in North Andover, Mass., and is ISO 9001: 2008-certified. For more information, please visit:
www.L-com.com/