Product News: Sensors Monitors & Transducers
Hammer Union Pressure Transducer withstands extreme use.
Press Release Summary: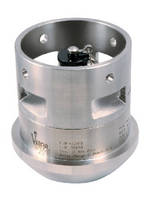 June 11, 2014 - With expanded electrical connection access, Model 511 facilitates installation. Unit also provides method for calibration through connector pins and may be repaired multiple times. In addition to optimized accuracy and temperature options, transducer features NACE compliant materials and housing design that eliminates fluid ingress. Potential applications include acidizing, choke manifolds, extraction, fracturing and cementing, mud pumps, nitrogen injection, and well head measurement.
Original Press Release
New Hammer Union Pressure Transducer Now Available from Viatran
Press release date: June 3, 2014
Rugged design withstands extreme use while providing accurate and reliable data.
NEW YORK -- Viatran, known for rugged designs that withstand harsh environmental conditions and mechanical impact, announced today the availability of their new Model 511 Hammer Union Pressure Transducer. This patented design has addressed the needs of the user by expanding the electrical connection access by 77% to allow for easier installations, as well as providing a method to calibrate the unit through the connector pins.  All this while maintaining the ability to repair the device multiple times, a very popular capability for businesses servicing the oil and gas industry.
Other features which serve to save time and money include improved accuracy and temperature options, NACE compliant materials and the revolutionary patented housing design that eliminates fluid ingress and provides a more durable unit for longer life and higher reliability ratings.
Older models can be upgraded to the new 511 standard, which enables customers to strategically consolidate all units to one convenient configuration with enhanced capabilities. This simplifies data collection and streamlines the installation process.
Potential applications include: Acidizing, Choke manifolds, Extraction, Fracturing and cementing, Mud pumps, New well development, Nitrogen injection, Service and cement trucks, Standpipe, Stimulation, Well head measurement.
For more information on Viatran or to find out more about the new 511 Hammer Union Pressure Transducer, please visit
www.viatran.com
, send us an e-mail at
solutions@viatran.com
, or reach us by calling 1-800-688-0030.
About Viatran
Viatran has nearly 50 years of experience providing solutions for pressure and level measurement. Based in Wheatfield, NY, the company is a worldwide leading supplier of pressure transducers and transducers in a wide range of industries, including automotive, oil and gas as well as the test stand, fluid power, food and beverage industries. For more information about Viatran, visit the company's Web site at
www.viatran.com
.