Product News: Sensors Monitors & Transducers
Gunshot Detector works on advanced acoustical analytics.
Press Release Summary: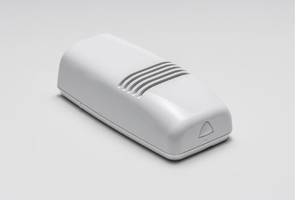 April 10, 2017 -
Used for detecting gunshots, Gunshot Detector is compatible with DMP XT and XR Series Panels. Product communicates its detection of gunshots as an alarm with central station and local management software. Detector is simple to install and manage and does not require additional special system.
Digital Monitoring Products, Inc. - Springfield, MO
Original Press Release
DMP Announces Gunshot Detection Technology at Annual Owners Forum
Press release date: April 5, 2017
The DMP Owners Forum took place yesterday at the Encore Hotel & Resort. This invitation-only event takes place every year in Las Vegas the day before the ISC West Exhibit opens. DMP Executive Management gave attendees a behind-the-scenes look at a new exciting technology.
The Gunshot Detector is a new detection device that identifies gunshots within an indoor area, similar to the way a motion detector or smoke detector works, in conjunction with a standard alarm panel. The device detects gunshots through advanced acoustical analytics that reside within the device. This incredibly accurate technology discriminates gunshots from any other loud sounds and then communicates its detection as an alarm to the central station, local management software or system users through push notifications allowing an appropriate response by first responders or onsite guards.
This simple to install and manage system is impervious to privacy concerns because it is only connected to a traditional zone on an intrusion control panel. Unlike existing gunshot technology, this DMP detector does not require an additional special system, is easy to install and is very affordable.
"We believe the Gunshot Detector will give first responders the information they need to accurately assess active shooter situations, providing precise real-time information as to the location and movement of perpetrators," said Executive Marketing Director, Mark Hillenburg.
Through the integration of our access control systems, schools, banks, and other public buildings can be immediately locked down to start appropriate safety procedures.
The DMP Gun Shot detector will be available this summer and is compatible with DMP XT and XR Series Panels.
DMP is a privately held independent manufacturer of innovative intrusion, fire, access control, network and cellular communication products designed, engineered, and manufactured in Springfield, MO using U.S. and global components. DMP is the recognized leader in alarm communication over data networks, with products that are available through professional electronic security companies.
For more information, contact
Mark Hillenburg
2500 N. Partnership,
Springfield, MO 65803
800-641-4282