Product News: Fasteners & Hardware
Grooving Tools are optimized for shallow depths of cut.
Press Release Summary: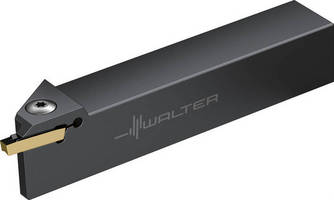 February 9, 2012 - Promoting safety while speeding changeover in grooving, parting, turning applications, models G1511, G1521, and G1551 have respective approach angles of 0° (straight), 90°, and 45° and are optimized for shallow depth grooving to 0.236 in. Straight and 90° versions suit radial/axial face grooving and turning, while G1551 is intended for recesses, undercutting, and copy turning. Formed from Tigerotec® materials, all double-edged inserts offer clamping screw accessible from both sides.
Original Press Release
Walter USA, LLC Introduces Three New Versatile Walter Cut Grooving Tools for Shallow Depths of Cut
Press release date: February 7, 2012
New tools can reduce costs, boost safety and speed changeover times in grooving, parting and turning applications. Waukesha, WI - Walter USA, LLC has expanded its line of Walter Cut tools for parting, grooving and turning with three new models optimized for shallow depth grooving of up to a maximum of 0.236 in. (6 mm). These three new tools-designated G1511, G1521, and G1551-each have different approach angles. The G1511 is straight 0 degrees, the G1521 is angled at 90 degrees, and the G1551 is angled at 45 degrees. The straight and the 90 degree versions are suitable for radial and axial face grooving, as well as for turning. The 45 degree G1551 is primarily intended for recesses, undercutting and copy turning applications. Though optimized for shallow grooving, all three models can be used for a variety of applications including parting off small and thin-walled workpieces or for making sealing ring and snap ring grooves. Enhancing this versatility is the fact that inserts in widths ranging from 0.079-0.236 in. (2-6 mm) can be used in the same Walter Cut toolholder. This reduces the number of tools required and leads to a reduction in tool and inventory costs. These double-edged inserts are formed from the latest Tigerotec® cutting tool materials with geometries and coatings specifically for grooving. As with previous tools in the Walter Cut G1011 range, the three new models boast a key feature that both simplifies handling and increases safety: The clamping screw can be accessed from both sides. This means that inserts can be changed quickly and easily, even with inverted use. In addition, the low tool height typical of Walter Cut toolholders facilitates chip removal, thereby enhancing process reliability. Walter USA, LLC offers an extensive line up of cutting tools for milling, drilling, turning, boring and specialized tooling for unique applications through its competence brands Walter Valenite, Walter Titex and Walter Prototyp. As well as multi-level service programs through its Walter Multiply brand. Headquartered in Waukesha, Wisconsin the company has a strong network of distributors and field engineers across North America. The Walter name is synonymous with productivity, thanks to more than 80 years of developing cutting tools and inserts that set new standards in production. Walter USA, LLC combines over 75 years of U.S.-based tooling production with long-standing traditions of quality and innovation. For more information on Walter grooving tools go to
goo.gl/unQgV