Product News: Architectural and Civil Engineering Products
Glass Blocks provide privacy with various shapes and sizes.
Press Release Summary: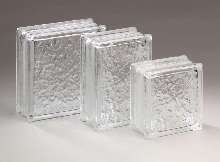 May 16, 2003 - Glass Blocks in Premiere Series IceScapes® Pattern are suitable for zero-lot line applications where privacy is needed. ARQUE® Block offers tight-curve features 16 in. exterior radius and 12 in. interior radius. EndBlock(TM) is 8 x 8 in. with rounded, finished surface on one edge. TRIDRON 45-Degree Block® allows construction of 45° angles. Hexagonal HEDRON® Corner Block turns 90° corners in projects such as partition walls. Other sizes include 4 x 8 x 4 in. and 6 x 8 x 4 in.
Pittsburgh Corning Corporation - Pittsburgh, PA
Original Press Release
Pittsburgh Corning Announces Eight New Block Shapes to IceScapes® Pattern glass Block to Increase Design Possibilities
Press release date: May 14, 2003
PITTSBURGH, PA -The popularity of glass block continues to grow and Pittsburgh Corning Corporation is meeting homeowner demand with new block shapes and sizes of its popular Premiere Series IceScapes® pattern. Previously only available in 8-inch by 8-inch blocks, the new IceScapes line now includes an additional seven square, triangular, hexagonal and curving glass block shapes and sizes to increase design possibilities for applications such as, showers, bathroom dividers, radius walls and partition walls. The new IceScapes® pattern provides a timeless look and maximum light transmission, while providing even greater privacy than the popular DECORA® pattern. The IceScapes non-directional pattern is ideal for zero-lot line applications where privacy is needed. The versatile IceScapes pattern is also a popular choice for offices, schools and other institutional and commercial applications where both privacy and aesthetics are important. In addition to the original 8-inch by 8-inch IceScapes pattern block, the Pittsburgh Corning Premiere Series Glass Block IceScapes pattern is now available in seven new block sizes and shapes: o ARQUE® Block - With a consistent, tight curve featuring a 16-inch exterior radius and 12-inch interior radius, ARQUE blocks help create smooth curves and columns. o 8-inch by 8-inch EndBlock(TM) Finishing Unit - The rounded, finished surface on one edge of these blocks makes them virtually disappear when used vertically or horizontally on the edges of panels, walls or dividers. o 6-inch by 8-inch EndBlock(TM) Finishing Unit - Similar to the 8-inch EndBlock, this smaller version also features a rounded, finished surface on one edge. o TRIDRON 45-degree Block® - The unique shape of this block allows homeowners to create everything from 45-degree angles to full circles. o HEDRON® Corner Block - The hexagonal shape of this corner block makes it perfect for turning 90-degree corners in projects such as partition walls. o 4-inch by 8-inch by 4-inch - Half the size of the original 8-inch by 8-inch block, this rectangular shaped block adds increased flexibility where smaller blocks are needed. o 6-inch by 8-inch by 4-inch - A medium-sized version of the original square block adds increased design possibilities. "Based on the success of the 8-inch IceScapes glass block pattern, it was a natural progression to offer an entire line of shapes and sizes," said Pittsburgh Corning President and CEO, Donald Schlegel. "Now homeowners and builders have more pattern options to use creatively when designing with Pittsburgh Corning Glass Block." Pittsburgh Corning Glass Block products are available from authorized Pittsburgh Corning distributors and retailers across the country. For more information, readers can call Pittsburgh Corning's Glass Block Resource Center at 800-624-2120 or visit www.pittsburghcorning.com. Located in suburban Pittsburgh, Pittsburgh Corning is a manufacturer of applied glass technology and systems. The company has been a major producer of glass block for commercial and residential use since 1937.