Product News: Vision Systems
GigE Cameras facilitate image evaluation and integration.
Press Release Summary: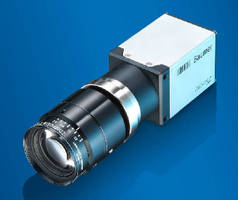 October 11, 2012 - Featuring integrated color calibration, VisiLine® SD Series permits identical color reproduction in multi-camera applications. Series includes CCD and CMOS models that acquire up to 160 fps with resolutions from VGA to 4 megapixels. CMOS models provide FPN correction and integrated HDR, which eliminate sensor-related banding and allow camera to acquire images with major brightness variations. With auto-exposure and auto-gain, cameras can adapt independently to fluctuating light conditions.
Original Press Release
Visiline® SD Cameras Simplify Image Evaluation and Integration
Press release date: October 9, 2012
Baumer GigE Cameras Permit Identical Color Reproduction in Multi-Camera Applications

Southington, Conn. -- By perfecting image quality, simplifying camera integration and delivering reliable long-term stability, the new VisiLine® SD series of GigE cameras from Baumer redefines industrial image processing standards. Improved integrated color calibration produces virtually identical colors from camera to camera, facilitating applications with multiple, simultaneously-operating cameras.

The VisiLine® SD camera series includes CCD and CMOS models that acquire up to 160 fps with resolutions from VGA to 4 megapixels. CMOS models feature FPN correction and integrated HDR, which eliminate sensor-related banding and allow the camera to acquire images with major brightness variations within a scene. This simple, robust image evaluation is particularly useful when inspecting homogeneous or reflective surfaces. The cameras' ability to capture HDR images eliminates the need for software provisions to offset multiple images and allows higher frame rates for high speed process inspection.

Baumer VisiLine® SD cameras feature auto-exposure and auto-gain, which allow the cameras to adapt independently to fluctuating light conditions and deliver optimally exposed images that permit precise, stable evaluation. Transferable user sets allow all configurable parameters to be saved in the camera and on the user's PC. Stored configurations can be loaded onto any number of cameras at any time, simplifying integration of new cameras and reducing maintenance costs.

Image sensors are mounted on a carrier strip, ensuring optimal heat dissipation to the housing and highly precise, durably stable sensor position. All new VisiLine® SD series cameras are formatted for GigE Vision® 2.0.

For more information, call 800-937-9336 or email sales.us@baumer.com.

The Baumer Group is a leading international manufacturer of sensors and system solutions for factory and process automation. In 2012, the innovative family-owned company employs about 2,500 people worldwide in 36 locations and 18 countries. The long lasting success is built on high customer focus as well as the innovative and diversified product range of the product segments Sensor Solutions, Motion Control, Vision Technologies, Process Instrumentation, and Gluing Systems. For further information please refer to www.baumer.com.

Press contact:
Cassandra Scarpati
Marketing  Communication
Phone +860 620 6388