Product News: Materials & Material Processing
Gas-Shielded, Flux-Cored Wire suits pressure vessel fabrication.
Press Release Summary: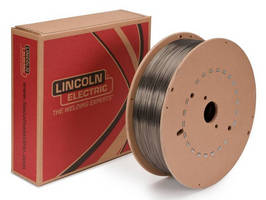 October 12, 2012 - Suited for applications requiring post-weld heat treatment (PWHT) of mild steel, .045 in. dia UltraCore® SR-12 exceeds AWS E71T-12M-JH8 strength and low-temperature impact toughness requirements in as-welded and stress-relieved conditions with impacts of 80–150 lbf-ft @ -40°F. This 75%–80% Argon/balance CO2 gas-shielded flux-cored (FCAW-G) welding wire offers arc performance and bead shape which promote usability for welders of all skill levels.

The Lincoln Electric Company - Cleveland, OH
Original Press Release
Lincoln Electric Introduces UltraCore® SR-12: a New Gas-Shielded, Flux-Cored Welding Wire for Pressure Vessel Fabrication
Press release date: October 8, 2012
Cleveland – Lincoln Electric introduces the new UltraCore® SR-12 gas-shielded flux-cored wire. This 75% - 80% Argon / balance CO2 gas-shielded flux-cored (FCAW-G) wire is capable of meeting AWS E71T-12M-JH8 requirements in as-welded and stress-relieved conditions.

UltraCore SR-12 is an excellent choice for pressure vessel fabrication and many other applications requiring post-weld heat treatment (PWHT) of mild steel.

Key Features:
• Robust Mechanical Properties - Exceeds AWS E71T-12M-JH8 strength and low-temperature impact toughness requirements in as-welded and stress-relieved conditions with impacts of 110 - 200 J (80-150 ft•lbf) @ -40°C (-40°F).
• Operator Friendly - Premium arc performance and bead shape makes SR-12 easy to use for welders of all skill levels.

This flux-cored wire conforms to AWS A5.20/A5.20M: E71T-1M-JH8, E71T-9M-JH8, and E71T-12M-JH8 classifications.

Available in 15 lb. and 33 lb. packages, UltraCore SR-12 wire comes in the standard .045 in (1.1 mm) diameter.

To request a copy of Lincoln Electric's UltraCore SR-12 product literature, call (888) 355-3213 or visit www.lincolnelectric.com to obtain bulletin C3.12.18.

The Lincoln Electric Company, headquartered in Cleveland, Ohio, is the world leader in the design, development and manufacture of arc welding products, robotic arc welding systems, fume extraction equipment and plasma and oxyfuel cutting equipment and has a leading global position in the brazing and soldering alloys market.

Media Contacts:
Greg Coleman – Greg_Coleman@lincolnelectric.com  or 216.383.2462
Robin Suttell – rsuttell@fallscommunications.com or 216.696.0229