Product News: Thermal & Heating Equipment
Gas-Fired Oven is used for curing rubber hose.
Press Release Summary: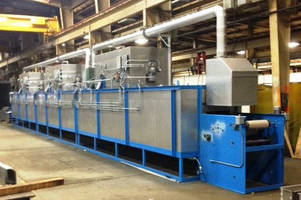 June 3, 2014 - With overall length of 77 ft 8 in., which includes 64 ft heated length, gas fired oven is used to cure internal rubber lining of hose prior to bonding with outer-most hose material. Oven operates at 650°F and can reach 700°F max temperature. Along with part conveyance via 3 separate conveyor levels to ensure proper curing time, features include 1.5 min dwell time, 100 fpm line speed, side access doors for maintenance, heat-loss hoods, and circulation ducts.
Original Press Release
Three Tier Rubber Hose Curing Oven Shipped to Leading Fire Hose Manufacturing Company by Infratrol
Press release date: May 30, 2014
• Gas Fired Rubber Hose Curing Oven
• For curing the internal rubber lining of a hose prior to bonding with outer-most hose material
• 650F operating temperature, 700F max temperature
• 1.5 minute dwell time
• Overall length 77'8" including 64' heated length
• 100 FPM line speed

Special Features

• Three Tier Conveyor – The part conveyance consists of three separate conveyor levels.  The extruded hose material is loaded at one end of the top level, passes through the top, middle, and bottom conveyor for the proper curing time.
• Side Access Doors – One side of the oven lined with access doors to allow for easy access to all three tiers of conveyor and allow for easier maintenance access.
• Heat-Loss Hoods – The entrance and exit ends of the oven openings contain hoods mounted above the opening.  These are designed to capture and recirculate heat lost from the end openings.
• Circulation Ducts – Equipped with a side air supply duct.  The one-side airflow allows for the access doors to be placed on the opposite side of the oven.