Product News: Packaging Products & Equipment
Foam-in-Place System produces variegated foam cushions.
Press Release Summary: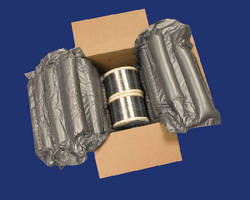 March 23, 2012 - IntelliPack SmartBagger(TM) FIP System can produce SmartTrax cushions as well as FIP bags. System converts from bag to SmartTrax cushion mode via user touchscreen. In addition to dual functionality, Smart Bagger also features telemetry function, which triggers daily diagnostic testing to ensure unit is performing under preset parameters. Additionally, system can be programmed with bar code data for each specific product that enters pack station.
Original Press Release
Pregis Adds SmartTrax Variegated Foam Cushion Capability to IntelliPack SmartBagger Foam-in-Place System
Press release date: March 21, 2012
Deerfield, Ill., -Pregis Corp. is adding the ability to produce variegated foam cushions to its IntelliPack SmartBagger(TM) foam-in-place (FIP) system. The added capability, called SmartTrax(TM), eliminates the need to invest in secondary protective systems for void fill and bottom padding requirements.
A software upgrade is now enabling the SmartBagger to produce SmartTrax cushions in addition to FIP bags. A series of foam-filled cylinders can be used to create bottom pads to help cushion heavy objects. They can also be used as end-caps and corner protection to wrap products or fill awkward voids.
"The SmartTrax option is used in conjunction with traditional FIP bags. Users now get the primary benefits of a traditional FIP bag system, while also gaining additional void fill protection via SmartTrax," said Todd Hanna, vice president and general manager of FIP systems, Pregis. "By adding this capability, we've made the IntelliPack SmartBagger even smarter."
The system easily converts from bag to SmartTrax cushion mode via the user touch screen. Operators have the option of working in an "on demand" mode or premaking a specific quantity in advance to meet production requirements.
In addition to its dual functionality, the Smart Bagger also features the IntelliPack brand's leading edge telemetry and bar coding features. The telemetry function triggers daily diagnostic testing to make sure the unit is performing under preset parameters and will automatically contact a service technician if it isn't.
Additionally, the system can be programmed with bar code data for each specific product that enters the pack station. The information tells the unit the exact amount of film and liquid foam to use, taking the guesswork and operator error out of the packing equation. The end result is more cost-effective management of consumables and a significant reduction in downtime.
The IntelliPack SmartBagger with SmartTrax system is ideal for a variety of small and large components which require transport protection. Typical applications include: automotive, military, furniture, electronics, aircraft, appliances, controls/instrumentation, industrial equipment, sporting goods, etc.
"We added this capability in response to customer feedback. In this economic climate, companies want to have maximum flexibility while keeping capital expenditure under control. Additionally, space and inventory savings realized by combining two functions into one unit, is another strong benefit," Hanna said.
About IntelliPack
Since 2003, Pregis' IntelliPack brand has been instrumental in offering the marketplace new technology for a wide variety of foam-in-place (void-fill, cushioning or block/brace) applications. IntelliPack's software and advanced processes (telemetry and bar coding) have been instrumental in minimizing downtime and creating source reduction. For more information:
www.intellipack.com
.
About Pregis
Pregis Corporation is a leading global provider of innovative protective packaging materials and systems. The company offers solutions for a wide variety of consumer and industrial market segments including food, beverage, healthcare, medical devices, agricultural, e-commerce, retail, automotive, furniture, electronics, construction and military/aerospace. Pregis currently operates 25 facilities in 10 countries in North America and Europe. For more information, visit
www.pregis.com
.