Product News: Electrical Equipment & Systems
Fluorescent UV Lamps kill germs, mold, and viruses.
Press Release Summary: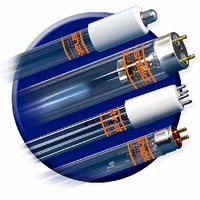 August 21, 2007 - Providing solution for sterilization without toxic chemicals, UV Germicidal Lamps emit specific high-output UV radiation, which destroys bacteria, viruses, spores, and molds. Clear coating safely contains virtually all glass and lamp elements in event of accidental breakage. Available in T5 and T8 models, lamps are suited for food manufacturers, large HVAC areas, and water treatment centers.
Original Press Release
Shat-R-Shield Introduces Powerful Line of UV/Germicidal Lamps
Press release date: August 3, 2007
Shatter-Resistant Lamps KILL Germs, Mold & Viruses Making An Ideal Solution For Sterilization Without Toxic Chemicals Salisbury, N.C. - August 3, 2007 - Shat-R-Shield, the leading and largest manufacturer of coated safety lamps, today announced a line of UV/Germicidal lamps. These safety-coated fluorescent lamps emit specific high-output UV (ultraviolet) radiation which destroys bacteria, viruses, spores and molds. By using a physical process - rather than chemical - to inactivate pathogens, the lamps are versatile and appropriate for a variety of applications: o Food manufacturers benefit from the lamps by sterilizing packaging and products. o Large HVAC areas can employ the UV lamps to purify air and water going into their systems, a critical need in areas such as intensive care units o Water treatment centers can use the lamps for purification instead of adding chemicals to the water supply In addition to providing optimum UV and germicidal performance, the lamps' clear and tough coating will safely contain virtually all glass and lamp elements in the event of accidental breakage. The safety coating also allows for hassle-free replacement in the event of breakage, with no dangerous broken glass to clean up. "We strive to meet the needs of a variety of customers and these lamps help address a very unique need," said Shat-R-Shield Vice President of Sales & Marketing Marty Pint. "The germicidal lamps offer our customers an effective, easy-to-use and economical method to minimize bacterial contamination." Shat-R-Shield UV germicidal lamps are available as T5 and T8 fluorescents through the company's network of electrical distributors. For more information, visit
www.shatrshield.com
or call 1-800-223-0853. About Shat-R-Shield Shat-R-Shield, the original manufacturer of plastic-coated, shatter-resistant lamps, has been ensuring lighting safety since 1978, when they introduced the first protective fluorescent lamp. Since then, Shat-R-Shield has continued to be the leader in safety lighting. Currently, millions of Shat-R-Shield lamps are performing for food, beverage and other industries seeking the ultimate, cost-efficient worksite protection. Shat-R-Shield lamps are UL EPH (environmental and public health) classified, NSF certified, USDA approved, and meet FDA, OSHA, CFIA (Canada Food Inspection Agency) and Mexico Agricultural Department regulations. The company is located in Salisbury, N.C. For more information, please visit
www.shatrshield.com
. Marty Pint, Shat-R-Shield, (704) 633-2100