Product News: Communication Systems & Equipment
Flat Panel Antennas withstand heavy-duty outdoor use.
Press Release Summary: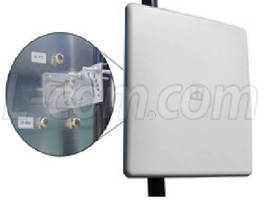 November 12, 2012 - With gain from 12–19 dBi, HyperLink Series includes models for 2.4, 2.4/5.8, 3.5, and 4.9–5.8 GHz bands. Units use multiple-in/multiple-out formats with 2 or 3 active elements. Dual polarization means antennas send/receive using both vertically and horizontally polarized beams simultaneously, allowing for multi-thread communication in MIMO/802.11n applications.
L-Com Global Connectivity - North Andover, MA
Original Press Release
L-com Introduces Five New HyperLink Dual Polarized Flat Panel Antennas
Press release date: October 24, 2012
NORTH ANDOVER, MA - L-com, Inc., a designer and manufacturer of wired and wireless connectivity products, has released five new HyperLink brand flat panel antennas that are dual polarized. The new antennas have between 12 and 19 dBi gain, and include models for the 2.4 GHz, 2.4/5.8 GHz, 3.5 GHz, and 4.9-5.8 GHz bands.  All of them are designed for heavy duty outdoor use and come with mounting hardware, and they use multiple-in/multiple-out (MIMO)  formats with two or three active elements.

Flat panel antennas are popular for their high gain and focused beam width for providing wireless connectivity in long, rectangular areas.  Dual polarization means the antennas send/receive using both vertically and horizontally polarized beams at the same time, allowing for multi-thread communication in MIMO/802.11n applications. In addition to the high-quality of the HyperLink brand, these antennas are priced affordably for both individual and large-scale installations.

"With the newer, faster wireless connectivity standards demanding multi-thread communication, MIMO antennas are more popular than ever," said Patrick Pesa, Director of Product Management. "We've had a selection of MIMO antennas for a long time, but we decided to expand our offering to help serve our customers."

The new antennas are due to be stocked in L-com's HyperLink distribution center in Boca Raton, FL, for quick turnaround on orders. Data sheets and detailed engineering drawings are available for free download from the L-com website.

For more information about this release, please contact:
Dave Fallon, Internet Marketing Strategist
978-682-6936 x1450, newsletters@L-com.com

L-com, a global designer and manufacturer of wired and wireless connectivity products, offers a wide range of solutions and unmatched customer service for the electronics and data communications industries. The company's product portfolio includes cable assemblies, connectors, adapters, computer networking components, and custom products, as well as the Hyperlink line of wireless products. Trusted for more than 30 years, L-com, Inc. is headquartered in North Andover, Mass., and is ISO 9001: 2008-certified. For more information, please visit: http://www.L-com.com/

Friendly Knowledgeable Service • In Stock Availability & Same Day Shipping • 100% Satisfaction Guaranteed
Connect with L-com:   Twitter   Facebook   YouTube   Google +