Product News: Sensors Monitors & Transducers
Fiber Optic Detectors use adapter for configuration changes.
Press Release Summary: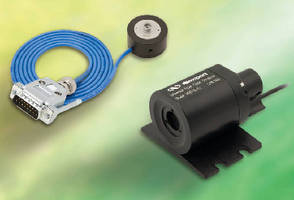 February 1, 2013 - Supplied with FC/PC adapter, or optional FC/APC and SMA connectors, universal 918D-IS Series uses 1 in. symmetrical integrating sphere to ensure most accurate calibration possible, regardless of fiber type measured. Dual detector design includes special optics to optimize temperature sensitivity while operating from 400–1,650 nm. Model 918D-IS-IG has single InGaAs detector that operates from 800–1650 nm, while Model 918-IS-SL uses single Si detector for operation in 400–1,100 nm wavelength range.
Original Press Release
Newport's New Low-Cost Fiber Optic Detectors
Press release date: January 24, 2013
• Both photodiode and integrating sphere designs available for very simple configuration changes.

Irvine, CA – Newport Corporation, a worldwide leader in laser and photonic solutions that Make, Manage, and Measure Light®, introduces  photodiode-based, low cost fiber optic detectors.  The new products are cost-efficient alternatives to existing 918D-IS integrating sphere fiber detectors, yet allowing both free-space and fiber optic measurements simply by removing the fiber adapter.

Based on Newport's 818 detector series, the new fiber optic detectors feature great flexibility and simple configuration with three stainless steel adapters available.  The FC/PC adapter is included; the optional FC/APC and SMA connectors are both sold separately. Four different detectors are introduced:  Ultraviolet (UV - 200 – 1100 nm), silicon (Si - 400 – 1100 nm), indium gallium arsenide (InGaAs - 800 – 1650 nm), and germanium (Ge - 780 – 1800 nm).

The 918D-IS series universal fiber optic sensors use a 1-inch symmetrical integrating sphere to ensure the most accurate calibration possible, regardless of the fiber type measured. The dual detector design includes special optics to improve temperature sensitivity, operating wavelength from 400 to1650 nm.  The 918D-IS-IG has a single InGaAs detector that operates from 800 to 1650 nm while the 918-IS-SL uses a single Si detector for operation in the wavelength range from 400 to 1100 nm. 

Newport's calibration service to help maintain accuracy and guarantee performance includes the new ANSI Z450.3 compliant calibration.  For more information about Newport's new low-cost, fiber optic detectors that enable accurate and polarization-independent measurements, please visit:  http://www.newport.com/fiber-optic-detectors. 

About Newport Corporation
Newport Corporation is a leading global supplier of advanced-technology products and systems to customers in the scientific research, microelectronics manufacturing, aerospace and defense/security, life and health sciences and precision industrial manufacturing markets.  Newport's innovative solutions leverage its expertise in high-power semiconductor, solid-state and ultrafast lasers, photonics instrumentation, sub-micron positioning systems, vibration isolation, optical subsystems and precision automation to enhance the capabilities and productivity of its customers' manufacturing, engineering and research applications. Newport is part of the Standard & Poor's SmallCap 600 Index and the Russell 2000 Index.

Company Contacts:

Pete Neely
Director, Marketing Communications
Tel: 800-222-6440 / +1 949-863-3144
E-mail: pete.neely@newport.com

Jay Jeong
Sr. Product Marketing Manager, Photonics Products
Tel: (949) 757-2137
E-mail: jay.jeong@newport.com