Femtosecond Laser Processing suits medical device applications.
Press Release Summary: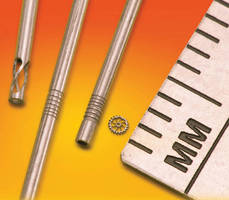 February 10, 2014 - Femtosecond laser processing allows cutting of multiple materials simultaneously as well as drilling and cutting of micro shapes. Able to drill and cut precise holes and shapes free from thermal damage in micromachining applications, femtosecond lasers vaporize matter without any heat affected zone. Flexible processing covers range of materials and composites, including polymers, platinum, stainless steel, and nitinol, and is suitable for on/off axis cutting and R&D or volume applications.
Original Press Release
LSA Laser Adds New Femtosecond Laser Processing Capabilities Ideal for Micromachining and Provides Single Step Laser Processing of Multiple Materials in Medical Device Applications
Press release date: January 31, 2014
Plymouth, Minnesota: LSA Laser announced the addition of femtosecond laser processing capabilities for medical device manufacturing. Femtosecond lasers are ideal in micromachining applications for drilling and cutting high-precision holes and shapes free from thermal damage.
Femtosecond lasers are ultrafast lasers systems which essentially vaporize matter without heat affected zone. "This capability creates new opportunities for advanced micro designs, particularly for difficult to process metals that are not feasible with conventional lasers and for composite materials," stated Tom Noll, President of LSA.
This new capability also has good potential for cutting of multiple materials at once or to drill and cut micro shapes, which reduces operations in the manufacturing of medical assemblies such as catheters. The ultrafast laser allows LSA Laser to process a wide range of materials and composites including polymers, platinum, stainless steel, nitinol, and more.
Traditional laser processes are limited to cutting one type of material at a time, for example metals or polymers. The femtosecond laser allows the cutting of multiple layered materials in one process step. This new system was custom designed to be flexible and suitable for on or off axis cutting and R&D or volume applications. It can handle both flat stock and tube cutting on the same system with minimal setup.
The shortened pulse from a femtosecond laser decreases the heat-affected zone around the material being cut, resulting in less damage to the surrounding areas and an overall cleaner cut. This allows parts processed with this system to need little to no post process cleaning or other post processing.
LSA Laser is a contract manufacturer of medical device components and assemblies with ISO 13485:2003 certification and over 15 years experience supplying the medical device industry. LSA Laser operates a 26,000 square foot manufacturing and office facility. It utilizes 38 laser welding and cutting systems with up to six-axis motion control and computer aided manufacturing capabilities.
LSA processes include laser cutting, laser welding, laser ablation and laser marking used in a broad range of medical devices including defibrillation leads, stents, catheters, surgical instruments, dental instruments, orthopedics, hearing devices, neuro applications and more. Many of the processes include materials such as platinum, titanium, nitinol and nichrome in sizes as small as .001 inch.
For more information about LSA Laser, call 763-744-0246
Email:
info@lsalaser.com
See at
www.lsalaser.com
Request samples here:
http://www.lsalaser.com/femtosamples