Product News: Computer Hardware & Peripherals
Ethernet Gateway facilitates industrial networking.
Press Release Summary: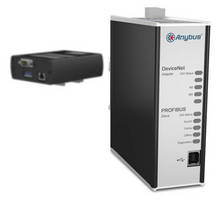 May 14, 2014 - Designed to meet needs of automation industry, Anybus X-gateways enable communication between two industrial networks (fieldbus or industrial Ethernet) in industrial applications. USB interface lets users connect gateway to PC and configure network communication via Windows®-based tool; no programming is necessary. Several industrial Ethernet versions include integrated dual-port Ethernet interfaces with integrated switch, and design is fully backwards compatible.
Original Press Release
The Anybus X-gateway Family Upgraded to Make Industrial Networking Even Easier
Press release date: May 5, 2014
Anybus X-gateways are used in thousands of industrial applications all over the world to enable communication between two industrial networks (fieldbus or industrial Ethernet). These popular "network translators" are now modernized as HMS Industrial Networks introduces a new version of Anybus X-gateways, designed to meet the future of the automation industry. The new version contains several new features, but is fully backwards compatible meaning that existing users can easily upgrade to the new version without hassle.USB interface and new configuration software
The new X-gateway comes with a USB interface, enabling the users to easily connect the gateway to a PC and configure the network communication via the Windows-based tool "Anybus Configuration Manager." No programming is necessary.
New design for easier installation
The new housing with upright design requires less rack space and enables easier installation in the switching cabinet. The flexible design also allows mounting on the side (flat) similar to the previous version of the X-gateway. Additionally, X-gateway now offers even lower power consumption.
Ethernet focus
As part of the new release, HMS introduces connectivity to CC-Link IE Field in the X-gateway family. Furthermore, several of the industrial Ethernet versions now include integrated dual-port Ethernet interfaces with an integrated switch, removing the need for external switches.
Making system integration easier

"This new version of the Anybus X-gateway will provide machine builders, system integrators, OEMs and end users with a modern communication gateway that is very easy to use when it comes to configuration and integration," comments Markus Bladh, Product Manager at HMS. "The X-gateway product family is a proven and trusted solution already in place in thousands of industrial automation plants. For these existing users, HMS ensures backwards compatibility within their industrial automation systems - keeping the same high performance, reliability and low latency."
What is an X-gateway?
Anybus X-gateways help system integrators to easily interconnect any two networks, enabling consistent information flow throughout the entire plant. In today´s industrial installations, one common problem is that there is often more than one control system and industrial network. Most new factory upgrades need to integrate Fieldbus with Industrial Ethernet. Connecting these similar or dissimilar control systems and networks can be a challenge. With over hundreds of  individual Master/Slave and Slave/Slave versions, Anybus X-gateways allows users to connect almost any possible combination of industrial networks.
HMS Industrial Networks is the leading independent supplier of embedded network technology for automation devices. HMS develops and manufactures solutions for interfacing automation devices to industrial networks. Development and manufacturing takes place at the head office in Halmstad, Sweden. Local sales and support is provided by the HMS branch offices in Chicago, Beijing, Karlsruhe, Milan, Mulhouse and Tokyo. HMS employs over 240 people and reported sales of Euros42.5 million in 2011. HMS was formed in 1988 and is listed on the NASDAQ OMX Nordic Exchange in Stockholm in the category Small Cap, Information Technology with ISIN SE0002136242.
HMS Industrial Networks Inc
35 E. Wacker Dr, Suite 1700
Chicago , IL 60601
USA
- -
Phone: +13128290601
Fax: +13126292869
us-sales@hms-networks.com
HMS Industrial Networks
Stationsgatan 37
30245 Halmstad
Sweden
www.anybus.com
Michela  NALIN
Phone: +46 351729 93
Fax: +46 351729 09
min@hms.se