Product News: Electrical Equipment & Systems
ESD Protection TVS Diode Array features 0.5 pF capacitance.
Press Release Summary: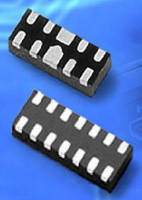 December 12, 2012 - Supplied in µDFN-14 package that measures 3.5 x 1.35 x 0.5 mm, 6-channel SP3012-06UTG offers dynamic resistance of 0.4 Ω and protects sensitive chipsets on high-speed data lines from any external ESD (electrostatic discharge) event. This low-capacitance ESD protection TVS diode array (SPA® Device) safely absorbs repetitive ESD strikes above max level specified in IEC61000-4-2 international standard (Level 4) without performance degradation.

Original Press Release
New Littelfuse Low Capacitance TVS Diode Array Provides ESD Protection for Sensitive Chipsets on High-Speed Data Lines
Press release date: December 3, 2012
Offers Lower Clamping Voltage; Protects USB 3.0 and HDMI Ports on Consumer Electronics

CHICAGO – Littelfuse, Inc., the global leader in circuit protection, today announced it has developed a new SP3012-06UTG Low Capacitance ESD Protection TVS Diode Array (SPA® Devices). The new product is optimized for protecting sensitive chipsets on high-speed data lines from any external ESD (electrostatic discharge) event. Typical applications include USB 3.0 and HDMI port protection on LCD/PDP TVs, DVD/Blu-ray players, desktop PCs, MP3/PMPs, set top boxes, smartphones, ultrabooks/notebooks and digital cameras.

"With a dynamic resistance of just 0.4 ohms, our newest TVS Diode Array can provide a much lower clamping voltage than any competitive device, which helps to ensure reliable chipset performance in the field," said Chad Marak, Product Manager for Littelfuse TVS Diode Arrays. "It offers the smallest form factor of any six-channel solution in the market today, which is critical for conserving printed circuit board space and simplifying the layout process."

The SP3012-06UTG offers these key features and benefits:

Features
• Safely absorbs repetitive ESD strikes above the maximum level specified in the IEC61000-4-2 international standard (Level 4) without performance degradation; reduces designer's dependency on accurate trace impedance simulators
• Ultra low capacitance (0.5pF)
• Market-leading dynamic resistance of 0.4Ω provides clamping voltage two to three times lower than competitive devices
• ESD, IEC61000-4-2, ±12kV contact discharge, ±25kV air discharge rating
• Small form factor µDFN-14 package (3.5 x 1.35 x 0.5mm); allows PCB traces to run directly underneath the device, minimizing trace discontinuities

Benefits
• Minimizes signal degradation to preserve system performance while providing robust ESD protection
• Ensures chipset reliability through reduced clamping voltage
• Allows manufacturers to provide ESD protection above IEC standard requirements
• Reduces PCB footprint by more than 50 percent when compared to other fully integrated, 6-channel protection devices

Availability
SP3012-06UTG Low Capacitance ESD Protection TVS Diode Arrays are available in quantities of 3,000 in standard tape and reel packaging. Samples are available now for bulk orders; sample requests can be placed through authorized Littelfuse distributors worldwide. For a listing of Littelfuse distributors, please visit littelfuse.com.

For More Information
If you have questions or require technical support, please contact the Littelfuse technical support hotline at 1-800-999-9445. For circuit protection application design ideas, please visit the Application Design Center section of the Littelfuse website.

Technical Contact:
Chad Marak
Product Manager, TVS Diode Arrays
cmarak@littelfuse.com

About Littelfuse
Founded in 1927, Littelfuse, Inc., the worldwide leader in circuit protection, offers the industry's broadest and deepest portfolio of circuit protection products and solutions. Littelfuse devices protect products in virtually every market that uses electrical energy, from consumer electronics to automobiles to industrial equipment. In addition to its Chicago, Illinois, world headquarters, Littelfuse has more than 30 sales, distribution, manufacturing and engineering facilities in the Americas, Europe and Asia. Technologies offered by Littelfuse include Fuses; Gas Discharge Tubes (GDTs); Positive Temperature Coefficient Devices (PTCs); PulseGuard® ESD Suppressors; SIDACtor® Devices; Silicon Protection Arrays (SPA®); Switching Thyristors; TVS Diodes and Varistors.  The company also offers a comprehensive line of highly reliable Electromechanical and Electronic Switch and Control Devices for commercial and specialty vehicles and Sensors for automobile safety systems, as well as Protection Relays and underground Power Distribution Centers for the safe control and distribution of electricity.

For more information, please visit the Littelfuse website: littelfuse.com.
LFUS-P