Product News: Mechanical Power Transmission
Engine meets all Tier 2/Stage II requirements.
Press Release Summary: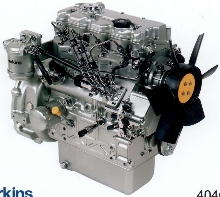 March 12, 2004 - Compact 404C-15 consists of 4-cylinder, 1.5 l engine developed to meet needs of light construction, agricultural, and lawn and garden equipment sectors. With max rating of 26.5 kW @ 3,000 rev/min, it can also be used for electric power generation and aircraft ground support. Engine provides low-noise performance and is scheduled for standard oil and filter changes every 500 hr.
Original Press Release
Perkins 4 Cylinder 1.5 Liter Engine Joins 400 Series Range
Press release date: February 17, 2004
Mossville, IL, Feb. 17 -- Perkins has introduced a new 4 cylinder, 1.5 liter engine to its 400 Series range. This brand new model, developed expressly for the Tier 2/Stage II requirements has been introduced to address the needs of a particular market segment and reaffirms Perkins' commitment to the small engine sector.
Called the 404C-15, this engine is light, compact, quiet running and has been developed specifically to meet the needs of the light construction, agricultural, and lawn and garden equipment sectors, as well as applications in electric power generation and aircraft ground support.
Designed to meet the challenges of the compact machinery market, this latest engine gives an impressive, smooth performance coupled to low operating costs and offers a maximum rating of 26.5 kW (35.5 bhp) @ 3000 rev/min.
The 404C-15 also continues the very low noise performance of other 400 Series models, generating tangible OEM benefits and improving end user feedback. Standard oil and filter changes are at 500 hours, as the rest of the Perkins 400 Series - twice that of its predecessor, the 100 Series. Together, these elements improve operator comfort and help drive down installation and running costs, particularly where sound attenuation is concerned.
By listening and working with its customers, Perkins has developed its 400 Series range to meet the needs of both manufacturers and end users. Built to demanding standards, the range meets all the requirements of EC Stage 2 Tier II and EPA Tier 2 off highway emissions legislations.
"We are developing the 400 Series for Tier 3 with a clear focus on providing minimum change for our customers - except where they require it," explains Allister Dennis, product marketing manger, Tier 3. "We will be concentrating on improving functionality, such as increased power and torque, combined with low noise, optimal cooling packages and, where requested, electronics. Cost of ownership and package size will also be a high priority as we move forward and increase the number of engine variants," he adds.
Perkins Engines Company Limited, headquartered in Peterborough, England, with North American headquarters in Mossville, IL, is the world's leading supplier of off-highway diesel and gas engines in the 4 - 2000 kW (5 - 2600 hp) market.
Perkins was acquired by Caterpillar in 1999; its engines are branded and marketed separately.
Perkins' key strength is its ability to tailor engines precisely to meet customers' requirements. More than 300,000 engines are manufactured every year -- that's one every minute -- to 21,000 different specifications. That is why over 1,000 major international OEMs in the construction, agricultural, power generation, materials handling, and defense markets choose Perkins to provide their power. Whatever the requirement, Perkins has the solution, backed by support from one of the world's largest and most sophisticated networks of 4,000 dealers and distributors in 160 countries. Today over 15 million pieces of equipment have benefited from Perkins power.
February 17, 2004 Information:
Mike Reinhart (reinhart_mike_e@cat.com) Perkins, Mossville, IL 309.578.6006
Doug Drummond (nationaled@aol.com) National Editorial Services 231.548.7444