Emulator fosters development and testing for sercos.
Press Release Summary: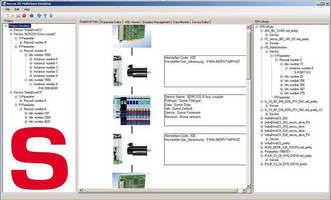 December 12, 2012 - Based on active sercos PCI board, sercos MultiSlave Emulator facilitates emulation of sercos® network with multiple slave devices for development and testing of various network configurations. Connected sercos slave devices can be freely configured. By reading out available parameters from physical devices and importing these into MultiSlave Emulator, emulation of individual devices as well as complete network can be executed with minimal effort.
Original Press Release
sercos MultiSlave Emulator: Powerful Development and Test Tool for Sercos®
Press release date: December 6, 2012
The sercos MultiSlave Emulator facilitates the emulation of a sercos network with multiple slave devices for development and testing of various network configurations. A user-friendly interface supports the emulation of complete sercos networks and their connected sercos slave devices. These devices can be freely configured. By reading out the available parameters from the physical devices and importing these into the MultiSlave Emulator, the emulation of the individual devices, as well as the complete network, can be executed with a minimum of effort. This tool supports the Windows XP and Windows 7 operating systems and is based on an active sercos PCI board from Automata GmbH & Co. KG.
The PC-based software tool was developed at the Institute for Control Engineering of Machine Tools and Manufacturing Units (ISW) in Stuttgart/ Germany and was presented by sercos international (SI) during the recent SPS IPC Drives exhibition in Nuremburg.
Christoph Melzer, managing director of Automata, explains: "We have embedded the hardware-related sercos functions as well as the driver software in a single FPGA device which is part of the active PCI board. Therefore, the emulator does not require a real-time operating system. Because real-time extensions for Windows are not needed, the installation and operation of the tool is easy and user-friendly."
Dr. Armin Lechler, leader of the competence center and the certification office for sercos at ISW, University of Stuttgart, adds: "The sercos MultiSlave Emulator is extremely versatile.  It supports control manufacturers and system integrators in their development and testing of different sercos network configurations. Furthermore, the actual machine configurations at the customer's facility can be reproduced in an in-house laboratory, in order to execute error detection and diagnosis – with a minimum of hardware effort."
For more information, please contact p.lutz@sercos.de.
About sercos
sercos is one of the world's leading digital interfaces for communication between controls, drives, and decentralized peripheral devices. sercos has been used in machine engineering for more than 20 years and is implemented in over 3.5 million real time nodes. With its open, manufacturer-independent architecture based on Ethernet, sercos III is a universal automation bus for all automation solutions.
About sercos international
sercos international is an association of users and manufacturers that is in charge of technical development, standardization, conformity inspection, certification, and marketing for the sercos automation bus. Based in Germany, the organization presently has more than 70 member companies located around the world, and has liaison offices in North America and Asia.
Additional information is available at
www.sercos.com
.