Product News: Electrical Equipment & Systems
EMI/RFI Shielding Components are photo-etched to specifications.
Press Release Summary: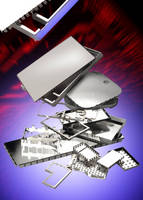 December 11, 2012 - EMI/RFI Shielding Components are photochemically etched from such base materials as brass, copper, nickel, stainless steel, and steel with various finishes. Suited for integration into PCBs and other electronic devices, custom-manufactured metallic components can be supplied as one- or two-piece fabrications, flat or formed, and can incorporate slots and holes, half-etch bend lines, tabs, or other special features.
Stork Veco International - Charlotte, MA
Original Press Release
EMI/RFI Shielding Components Photo-Etched to Customer Specification
Press release date: December 5, 2012
Custom manufactured metallic EMI/RFI shielding components for integration into printed circuit boards and other electronic devices are being intro-duced by Stork-Veco International, Inc. of Burlington, Massachusetts.

Stork Veco EMI/RFI Shielding Components are photochemically etched from a variety of base materials such as brass, copper, nickel, stainless steel, and steel with various finishes.  Manufactured to customer specifications, they can be supplied as one- or two-piece fabrications, flat or formed, and can incorporate slots and holes, half-etch bend lines, tabs, and other special features.

Supplied in prototype through production quantities, the advantages of Stork Veco photo-etched EMI/RFI Shielding Components being photo-etched include low-cost tooling which can be easily modified and burr- and stress-free finished products that offer good solderability and surface contact. Typical parts include cans with a choice of lids, sidewalls, and mounts, and enclosures, fences, and board-level cans with complex walls and sections.

Stork Veco EMI/RFI Shielding Components are priced according to material, configuration, and quantity.  Price quotations are available upon request.

For more information contact:

Stork Veco International, Inc.
Michael S. Burns, Sales Manager
15 "A" Street, Unit 2.
Burlington, MA 01803
(781) 425-6050  FAX (781) 425-6054
e-mail: michael.burns@spgprints.com
http://www.spgveco.com/