Embedded Communications Router connects to industrial networks.
Press Release Summary: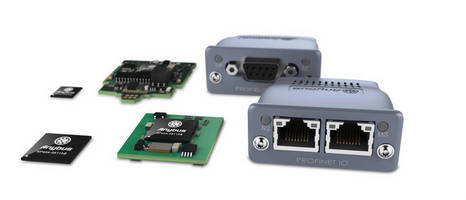 November 16, 2012 - Anybus® CompactCom™ 40-series features NP40 network processor and reprogrammable CompactCom hardware to support several networks. Unit installs into industrial device and firmware is downloaded to establish network connection. Suitable for industrial Ethernet and fieldbus applications with fast network cycles and synchronization demands, such as servo drive systems, product is available in chip, to integrate with PCB, brick, or interchangeable communication module form factors.
Original Press Release
Anybus CompactCom Expanded!
Press release date: November 15, 2012
High performance, real-time industrial Ethernet, and multiple form factors (Chips, Bricks and Modules) are key elements of HMS's new, expanded Anybus CompactCom offering. The new generation provides device manufacturers with full solution flexibility.
Anybus® CompactCom™ from HMS Industrial Networks is a range of embedded communication solutions that provide devices with connectivity to any industrial network. HMS now expands Anybus CompactCom to include a new technology generation. The new offering gives users the possibility to choose their level of integration to the host device and the desired performance level.
Choose level of integration: Chip, Brick or Module
The new Anybus CompactCom consists of ready-made communication interfaces for all major fieldbus and industrial Ethernet networks in several form factors:
- CompactCom Chip: A full network connectivity solution on a single chip for integration into the user's PCB design.
- CompactCom Brick: Ideal for users who have limited space or want to add their own choice of network connectors.
- CompactCom Module: A complete and interchangeable communication module gives the fastest time to market.
Regardless of form factor, users still have the unique interchangeability of Anybus. For example, it is possible to embed a CompactCom module into an automation device and later re-use the same software implementation for a CompactCom Brick or Chip solution. This means a minimum of development efforts for the user.
Choose performance level: 30- or 40-series.
The Anybus CompactCom 30-series (based on the NP30 network processor) is already installed in more than two million devices around the world and is tailored for users needing a solution for general automation such as general purpose drives, weight scales, valves, barcode scanners, sensors, HMIs etc. HMS now introduces the new CompactCom 40-series based on the new NP40 network processor. This series caters mainly for high-performance industrial communication for demanding applications.
What's new in the CompactCom 40-series?
The Anybus CompactCom 40-series supports all major industrial networks but is especially suitable for high-end industrial Ethernet and fieldbus applications. Since the CompactCom 40-series practically offers "zero delay" between the device and the network, it is ideal for high-performance applications with fast network cycles and synchronization demands such as servo drive systems.
Like all Anybus CompactCom solutions, the 40-series gives users access to all types of industrial networks — traditional fieldbuses as well as industrial Ethernet — through one single development project. The CompactCom 40-series extends the level of flexibility even further since it uses a reprogrammable CompactCom hardware to support several networks. For example, it is possible to install the CompactCom 40-series Ethernet hardware into an industrial device and simply download ready-made firmware to connect to the desired network (for example EtherNet/IP, PROFINET IRT or Modbus-TCP).
"We believe that the new 40-series technology with a combination of a faster processor and an FPGA area will provide a future-proof platform," says Jörgen Palmhager, Chief Operating Officer at HMS. "It gives users the best of both worlds. They get the speed and accuracy they need for demanding applications, and the flexibility to adapt to different networks by simply downloading a new firmware."
The new Anybus CompactCom 40-series will be previewed at events during the fall (for example the SPS/IPC/Drives 2012 show in Nuremberg, Germany) and released during 2013/2014.
HMS Industrial Networks is the leading independent supplier of embedded network technology for automation devices. HMS develops and manufactures solutions for interfacing automation devices to industrial networks. Development and manufacturing takes place at the head office in Halmstad, Sweden. Local sales and support is provided by the HMS branch offices in Chicago, Beijing, Karlsruhe, Milan, Mulhouse and Tokyo. HMS employs over 240 people and reported sales of Euros42.5 million in 2011. HMS was formed in 1988 and is listed on the NASDAQ OMX Nordic Exchange in Stockholm in the category Small Cap, Information Technology with ISIN SE0002136242.
HMS Industrial Networks Inc
35 E Wacker Drive, Suite 1700 IL 60601 Chicago
www.anybus.com
DEPARTMENT SALES
Phone: +13128290601
Fax: +13126292869
us-sales@hms-networks.com
HMS Industrial Networks
Stationsgatan 37
30245 Halmstad
Sweden
www.anybus.com
Michela NALIN
Phone: +46 351729 93
Fax: +46 351729 09
min@hms.se