Product News: Portable Tools
Electric Torque Driver provides stable screw tightening.
Press Release Summary: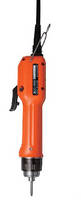 June 29, 2012 - Measuring 8 in. long with 1 3/8 in. diameter, HIOS Model BLG-4000 operates up to 1,000 rpm at 30 Vdc and provides torque range of 0.9-4.8 lbf-in. Unit features brushless motor, which ensure clean operation and minimizes heat generation. With anti-static plastic main body, driver minimizes electrical charge making it suited for assembly of precision instruments and electronic components.
ASG, Division of Jergens, Inc. - Cleveland, OH
Original Press Release
ASG Announces New BLG-4000 Brushless Electric Torque Drivers in the Assembly Product Group
Press release date: May 16, 2012
New affordable torque drivers are the next generation tools from HIOS.
Cleveland, - ASG announces the addition of the new BLG-4000 brushless electric torque drivers into the Assembly Product Group catalog. The BLG-4000 is one of the newest next generation tools from HIOS (Japan). ASG distributes HIOS brand tools as part of the newly-created Ultimate Gold 'World Class Quality' product category, which contains those products within the Assembly Product Group which feature the highest quality and capability.
The new BLG-4000 provides stable screw tightening quality and features outstanding durability and long operating life. The use of the brushless motor ensures clean operation and reduces heat generation by approximately 40 percent when compared to a brushed driver of the same specification. The main body of the driver is manufactured of anti-static plastic, producing an environment that is less electrically charged - ideal for assembly of precision instruments, electronic components, etc.
ASG BLG-4000 Specifications
ASG Part #    Model    Torque Range    Drive Size    Speed at 30 VDC    Recommended Power Supply 65560       BLG-4000   0.9-4.8 lbf-in    ¼" Hex       1000 RPM               PS-55* 65561                  0.1-0.55 Nm        4mm                        1-5.5 kgfcm 
(* Other power supplies which may be used include ASG-50, PS-55C, and PS-55AT for automated and PLC operation.)
The new BLG-4000 is compact, measuring 8 inches long with a 1 3/8-inch diameter. The driver is also very lightweight, weighing only 12.3 ounces.
The new BLG-4000 is immediately available through the ASG Distributor Network, and will be on display at the ASG booth at Assembly & Automation Technology Expo 2012 on June 19-21 at McCormick Place in Chicago, Illinois.
About ASG
ASG has been offering products and solutions for light assembly since 1976. A complete line of torque control products and precision fastening equipment is offered through ASG Assembly, Industrial, and Precision Fastening product groups and includes electric and pneumatic torque control drivers, automated fastening systems, torque testers, work station accessories, precision screw feeders, automatic tape machines, the X-PAQ(TM) System, and more.